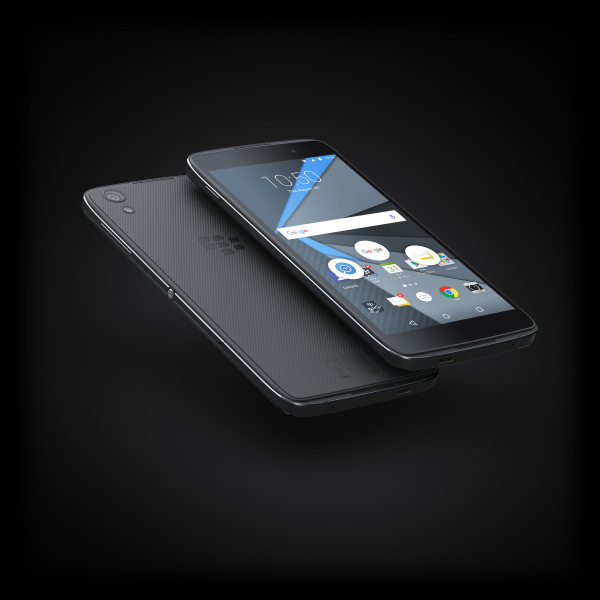 Today, I'd like to discuss with you one of my favorite BlackBerry devices. With a modern, all-touch design, a beautiful, brilliant display, and a host of productivity-enabling applications, it's a perfect tool for both business and pleasure. No, I'm not talking about the BlackBerry Leap – though you'd be forgiven for thinking it was.
I'm talking about our newest Secure Android Smartphone, DTEK50. It's actually got a great deal in common with the Leap (and other all-touch predecessors such as the Z10, Z30 and more). And that's precisely why, if you're seeking an upgrade for yours, it's the perfect choice.
Here's why.
A Form Factor That's Familiar but New
At a glance, DTEK50 looks pretty similar to the Leap. They've a lot in common, after all. They both sport an ergonomic, sleek form factor, a beautiful HD screen, and an intuitive, all-touch interface.
Of course, while they share a number of similarities, DTEK50 is also a step up from Leap.
Firstly, at just 7.4 mm thin, it's almost 25% thinner than Leap, and at 135 grams, about 27% lighter. It's also just slightly taller and narrower, allowing it to fit far more easily into your hand. In addition to being larger and having a higher resolution (1920 x 1080 at 5.2 inches), DTEK50's screen is also a great deal more vibrant than Leap's, with 36% higher pixel density.
Looks aren't everything, of course – and it's once you check under the hood that DTEK50 (below left) really starts to shine vs. Leap.
More Storage, More Memory, More Power
Just as the Leap before it, DTEK50 is powerful for its price. It has 3GB of LPDDR3 RAM, and ships with 16GB of Flash memory (expandable to 2TB through microSD). It's also equipped with a more powerful processor, and a battery capable of 17 hours of mixed use that can be refilled quickly through the QC2 2.0 Fast Charge.
Lastly, it sports two additional sensors that Leap doesn't have – a Gyroscope to measure the device's rotation, and a Magnetometer to help it more accurately determine location.
Enjoy Everything BlackBerry's Android Has to Offer
Perhaps the most exciting thing about DTEK50 is its operating system – Android, with BlackBerry's unique flair. We've baked our security, privacy, and productivity tools into the Android experience, ensuring that those of you who make the switch will feel safe and right at home with tools like the BlackBerry Hub and BlackBerry Calendar.
DTEK50 also has something Leap doesn't – DTEK, a security tool that lets you see how the apps on your device are using your personal information. Combined with Android Marshmallow, this means you've complete control over how applications use your photos, device features, and more.
Capture Your Life with Two Awesome Cameras
The Leap was equipped with a decent pair of cameras for its price point, but we've gone all-out with DTEK50. The cameras, which are equipped with a range of professional technologies, are the fastest BlackBerry has ever released. A 13 MP rear-facing auto focus camera and 8 MP front-facing camera ensure that all your pictures will look crisp and clear, even in low light. Other features make DTEK50 an all-round great way to shoot and store your photos and videos securely.
A Price Point That Will Leave You Smiling
DTEK50 and Leap have one more thing in common. They're both made to be highly-affordable. DTEK50 starts at just $299 USD on ShopBlackBerry ($429 CDN, €339 and £275).
Not all Android smartphones are equally secure, and fewer still can stand up to a BlackBerry device for privacy. DTEK50 is one of those few. With a host of productivity enhancements, a beautiful, familiar form factor, excellent technical specs and a pair of excellent cameras, DTEK50's a great choice for anyone who wants to experience BlackBerry's take on Android.
And it's a perfect choice for those of you looking to upgrade from a Leap.
DTEK50 is now available to buy in a growing number of countries – from local carriers and retailers in the U.S., Canada, and the UK – and on ShopBlackBerry.com in these and other countries for $299 USD ($429 CDN, €339, and £275). To keep up with additional global channels and countries as they're announced, stay tuned to our DTEK50 availability blog.
Want to see more? Check out our DTEK50 photo albums to see close-ups of its form factor, colorful images of the device, and screenshots of its customized Android UI, and don't miss our other launch blogs about DTEK50, including: