We are happy to announce that Caravan Transport Group, one of Canada's premier, cross-border transportation services, has completed its deployment of BlackBerry Radar, our IoT-enabled fleet and asset tracking solution that helps shipping firms monitor cargo in real-time to make faster and more profitable decisions.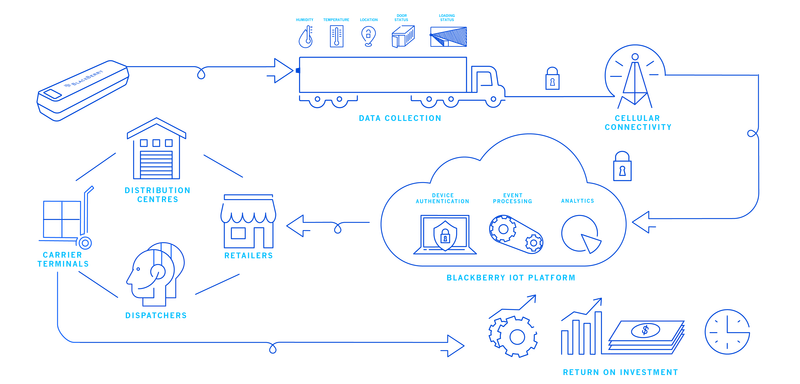 This post is by Derek Kuhn, Senior Vice-President for BlackBerry IoT.
Current methods of obtaining information about trailers or intermodal shipping containers no longer work in today's connected world, as the data they provide about the content and location of cargo is neither real-time nor updated frequently enough to make timely decisions. In order to address this issue, we leveraged our extensive technology portfolio and deep security expertise. The end result is Radar: an innovative software-based solution designed to bring decision makers and operators real-time information, analytics, and reports. Watch the video below:
Unveiled at the at the Mid-America Trucking Show in May, Radar is easy to install, requiring only minutes to outfit an entire fleet. Contained in state-of-the-art low-maintenance devices, its intelligent array of sensors collects and reports readings more often than any other self-powered solution on the market. These sensors provide feedback on everything a transportation company might need to know about each vehicle in its fleet, including:
Geographic location
Route data
Whether a trailer door is open or closed
The temperature and humidity inside a trailer
Whether a trailer is loaded or empty
Collected information is transmitted to a secure IoT cloud platform, eliminating the need for companies to invest in costly IT infrastructure. This also offers the ultimate in convenience –  fleet operation managers, load planners, and dispatchers can access Radar's intuitive control panel from a web-ready smartphone, tablet, or laptop. From there, they can examine individual assets or their fleet as a whole, generating reports around factors such as extended stops, vehicle utilization, delivery status, areas at high risk of theft, and much more.
And though it is easily accessible to end-users, the data gathered by Radar is fully encrypted, and all user devices and cloud endpoints are authenticated before being granted access.
"Running a fleet of 'Smart Trailers' has been a vision of ours for a while, but it wasn't until we met with BlackBerry did we think it could come to fruition," explains John Iwaniura, president of the Caravan Group of Companies. "We have been in the transportation industry for a long time and have yet to see any solution as comprehensive, compact, easy to use, and useful as BlackBerry Radar."
Eliminating time, money, and guesswork in supply chain management is a top priority for leaders across the transportation and logistics industry. BlackBerry Radar provides the perfect means by which to do so, leveraging the Internet of Things to enable faster reactions, smarter decisions, and more profitability. We are pleased that Caravan has chosen BlackBerry to help manage its fleet, and know that they will be the first of many to do so.
Click here to learn more about BlackBerry Radar, or email radar@blackberry.com. Be sure to also read more about our overall IoT platform.