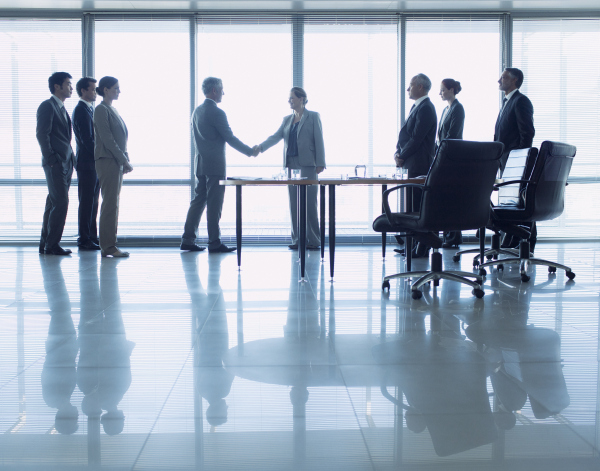 A merger or acquisition can be a messy affair. Not only does it result in a host of employees and resources that have no clear place in your corporate structure, you also need to attend to finances, intellectual property, and the transfer of business-critical information. And before the transaction can even take place, prospective buyers have to carry out extensive due diligence operations, examining critical files from the target company before finalizing a purchase.
Traditionally, these challenges are addressed through a secure data room. All information related to the seller is stored in a central repository and controlled access can be quickly granted to individual employees from the acquiring company as needed. On the surface, this seems like an excellent solution.
It's only once you look closer that the cracks start to show. A secure data room is a point solution. It exists to serve a singular purpose (control over the M&A due diligence process).
The issue here is that you aren't just going to need document control during due diligence. Especially when trying to sort through the massive volume of files that will inevitably go hand-in-hand with a purchase. You need a secure file sharing and tracking solution in all phases of your business operations.
With that in mind, why buy a point solution? Instead, why not store your critical data in a secure Enterprise File-Share-and-Sync (EFSS) software platform like BlackBerry Workspaces (formerly known as WatchDox)? Not only does it offer much of the same functionality as a secure data room, it's also designed for regular use within enterprise – it's not created with only a single use case in mind.
Further, BlackBerry Workspaces is also industry-recognized as being one of the best at what it does: it's a two-time visionary in Gartner's EFSS Magic Quadrant and a leader in Forrester's EFSS Wave Report.
With BlackBerry Workspaces, files can be made accessible to the employees who need them at all stages of the acquisition process. And when the time comes to integrate a purchased organization with a parent business, having all pertinent files stored in BlackBerry Workspaces simplifies the process considerably. BlackBerry Workspaces is also both flexible and easy to use, designed to integrate seamlessly with existing file repositories.
Most importantly, BlackBerry Workspaces ensures IT never loses control over critical data through several powerful Digital Rights Management (DRM) controls:
Granular File Controls: Dictate whether a user can access, view, copy, print, edit, download, or forward a file. These permissions can be changed at any time and access can be extended or revoked with just a few clicks.
File Expiration and Tracking: Track where, how, and by whom a file is accessed, as well as what a user does when they access it. You can also set access to expire after a set period of time and even files that have been downloaded or shared will be wiped.
Customizable Watermarks: Include details such as a user's name, email, or IP address on a document – if a document is leaked, your administrators will immediately know who is responsible.
Spotlight Viewer: Deter screen capturing by blurring the screen everywhere, but the mouse cursor's location.
A merger or acquisition can be a messy process. As two businesses struggle to mesh with one another, files can get lost and IT can lose track of critical data. By facilitating the transaction through BlackBerry Workspaces, rather than a secure, virtual data room, the process can happen without all the mess.
Attention Salesforce users: secure document collaboration has arrived with the new BlackBerry Workspaces app. Get it here. Or want to learn more about what BlackBerry Workspaces can do for you? Check out our latest release blog, visit the official BlackBerry Workspaces page or view our BlackBerry Workspaces Email Protector page.