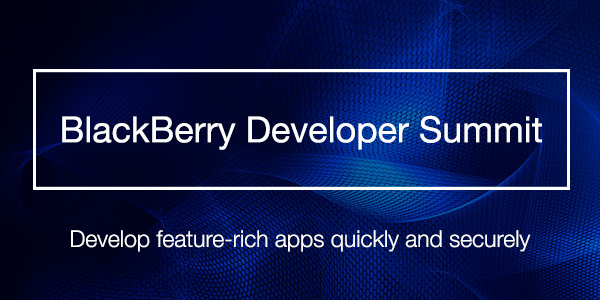 As BlackBerry completes our transition to a software-first company, focused today on enterprise mobility, but with an unblinking eye towards tomorrow's Enterprise of Things, developers are more important than ever to our company. That's a big statement to make, given how critical developers have always been to BlackBerry, but without the developer community supporting the enterprise software platforms we offer, we can't support the enterprises that depend on us to secure their businesses.
That's why we're so excited about the next BlackBerry Developer Summit, to be held November 17 in New York City. We have so much information to share. For mobile developers, it will be well worth your time to attend.
At the BlackBerry Developer Summit, you will:
Learn from the experts behind BlackBerry Enterprise Software, the world's most-trusted mobile platform.
Participate in interactive coding sessions that will help you build best-in-class enterprise apps in real-time leveraging the BlackBerry Dynamics (formerly known as Good Dynamics) SDK.
See how the BlackBerry application platform can help you create world-class mobile solutions for your organization using BBM Enterprise, BlackBerry Workspaces (formerly known as WatchDox), BlackBerry Enterprise Mobility Server (formerly known as Good Enterprise Mobility Server), and BlackBerry Enterprise Management Framework.
Receive interactive hands-on training on the BlackBerry Dynamics SDK designed for both new and experienced developers using the SDK.
Get an exclusive first look at BlackBerry's upcoming SDK release and its new innovative features.
Speak with senior BlackBerry engineers regarding your specific questions.
Network with your peers and share best practices.