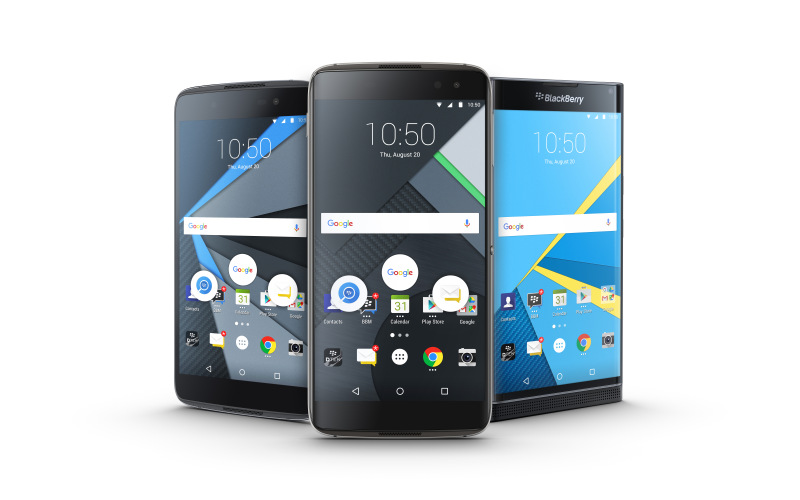 This week, we announced the launch of DTEK60, the latest in our secure Android line – and the device that truly puts the 'smart' in the smartphone. Available now with a complimentary accessory bundle on ShopBlackBerry, DTEK60 is ideal for the productivity-oriented, security-conscious enterprise. Armed with flagship specs and backed by BlackBerry's proven software expertise, it's a device that's worth getting excited about.
Just like with DTEK50 before it, people are stoked for our latest smartphone, and they aren't afraid to show it.
Media Folks and Reviewers Have Some Great Things to Say
"[The DTEK60] may be the most advanced phone to ever bear the company's name, and at a relative bargain too… With Google moving upmarket and Samsung in the grip of a brand nightmare, BlackBerry might find space to land a legitimate smartphone hit."  – Introducing the DTEK60, the best – and maybe last – true BlackBerry, by Shane Dingman (The Globe and Mail)
"The verdict? [DTEK60] is a great phone out of the box…On prices and features, if you have a corporate fleet of phones or are a prosumer purchaser, this is a phone that compares with everything else, and does so very well." DTEK60 unboxing video, by Jim Love, IT World Canada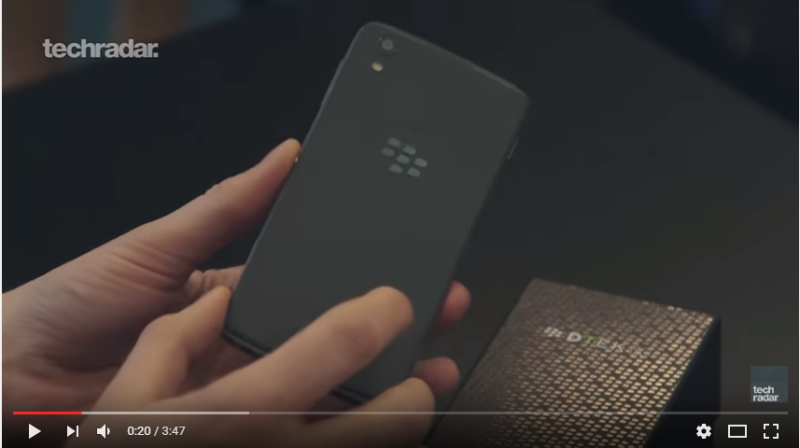 It's the world's most secure flagship smartphone…it has a really good spec sheet, some promising stats right there, and the price point is very good." – The world's most secure flagship smartphone, by John McCann (TechRadar)
"I'm really digging what the DTEK60 has to offer and feel as though it's a pretty complete package…the BlackBerry Android experience has been fine tuned and improved, and continues to improve along the way." – DTEK60 hands-on: Higher-end specs, nice looking hardware and trusted security, by BLA1ZE (CrackBerry)
"The DTEK60 comes with BlackBerry's software stock-like launcher and own personal apps…[which] are the first thing I install on an Android. The Hub has turned into Android's strongest email client and integrates nicely with the Calendar." – BlackBerry DTEK60: An elegant flagship for grownups, by Andrew Orlowski (The Register)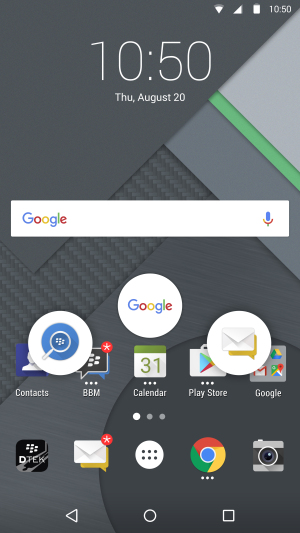 "BlackBerry's latest phone is pretty high-end, as the company opted for a metal frame and a dual-glass panel design when making the DTEK60. Software has always been BlackBerry's strongest point…the DTEK60 launches with an extra-safe version of Android 6.0 Marshmallow." – BlackBerry launches the DTEK60 with metal/glass design, Android 6.0 Marshmallow, by Alexandra Arici, (Android Guys)
"Once more, BlackBerry has released a new Android device [that] ticks all the boxes for competency…The Hub offers a consistent interface between email, Facebook, Twitter, and countless other applications." – BlackBerry's Surprisingly Speedy Return to The Smartphone Market by Ewan Spence (Forbes)
"The Productivity Tab makes a welcome return, and easily accessed with a single swipe from the Home screen. As does the BlackBerry Intelligent Keyboard, which may just be our favourite input method outside of Swiftkey…the DTEK60 can be recommended on its specs alone." – DTEK60 hands-on review: It's BlackBerry Jim, but not as we know it by Matt Farrington-Smith (The Inquirer)
"The handset feels premium, while managing to avoid the lookalike trappings of many other flagship devices…The DTEK 60 is the best BlackBerry touchscreen smartphone to date." –Brian Heater (TechCrunch)
"In terms of specs, the DTEK60 is truly high-end…And here's the clincher: the BlackBerry DTEK60 is being sold for only $499, a good hundred dollars or so lower than a smartphone with the same specs." – BlackBerry DTEK60 official: here's what you're getting, by JC Torres (Slashgear)
Twitter's Abuzz with Positivity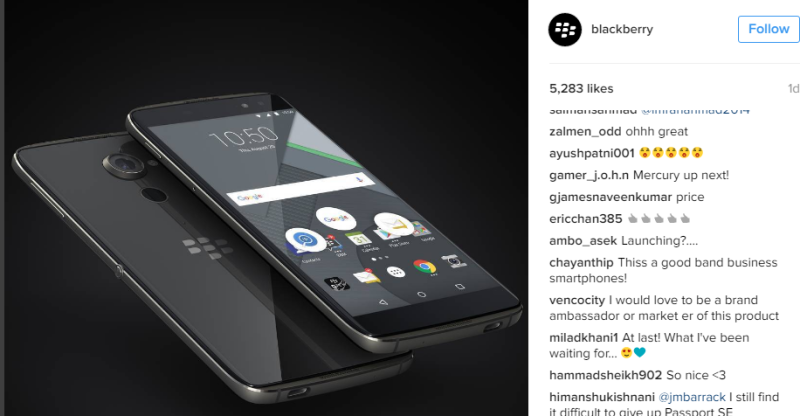 And Commenters All over the Web Love It, Too
"Great news. I have the DTEK50 and love it!" (Inside BlackBerry)
"This thing looks sweet, nice piece of hardware. Can't wait to get my hands on this baby." (CrackBerry)
"Feels safe and secure that BlackBerry continues in the device business!" (Inside BlackBerry)
"Nice to see them raising the bar on the DTEK line." (CrackBerry)
"Looks like a great value. Some of the features that set this apart from the competition are significant to me [are] Timely OS and security updates. best-in-class software including the Hub, virtual keyboard, universal search, Password Keeper, and DTEK; [and] security enhancements." (The Verge)
(Editor's note: As pointed out by Android Police, we may have inadvertently included a sarcastic reader comment. We've taken it down and thank Android Police for pointing it out.)
"I'm seriously thinking about selling the [Nexus] 6P and getting the DTEK60. I would have to give up Nougat for a few months but I would get the BlackBerry keyboard and the swipe-up feature for the home button, and would be able to cancel my Hub+ subscription. And the price would be similar so I wouldn't be losing much on the exchange. I think I'll go for it!" (CrackBerry)
So, When Are You Getting Yours?

Starting today, DTEK60 is available to buy from ShopBlackBerry.com in the US, Canada, UK, France, Germany, Spain, Italy and The Netherlands for $499 USD. Availability of DTEK60 in additional global channels and countries will be announced in the coming weeks.
For a limited time, customers who order DTEK60 from ShopBlackBerry.com will receive a complimentary accessory bundle. US and Canada customers will receive a DTEK60 Soft Shell and Rapid Charger for free and customers in the UK, France, Germany, Italy, Spain and The Netherlands will receive a DTEK60 Pocket Case and Rapid Charger for free. This offer expires on November 8th at 11:59 pm PST.
For more information on DTEK60, go to BlackBerry.com/DTEK60. Follow all updates related to DTEK60 on the Inside BlackBerry blog and on our YouTube BlackBerry Channel.
Be sure to also check out ShopBlackBerry for some great Black Friday deals – up to 53% off BlackBerry devices including PRIV, DTEK50, Passport, Passport Silver Edition, and Leap!