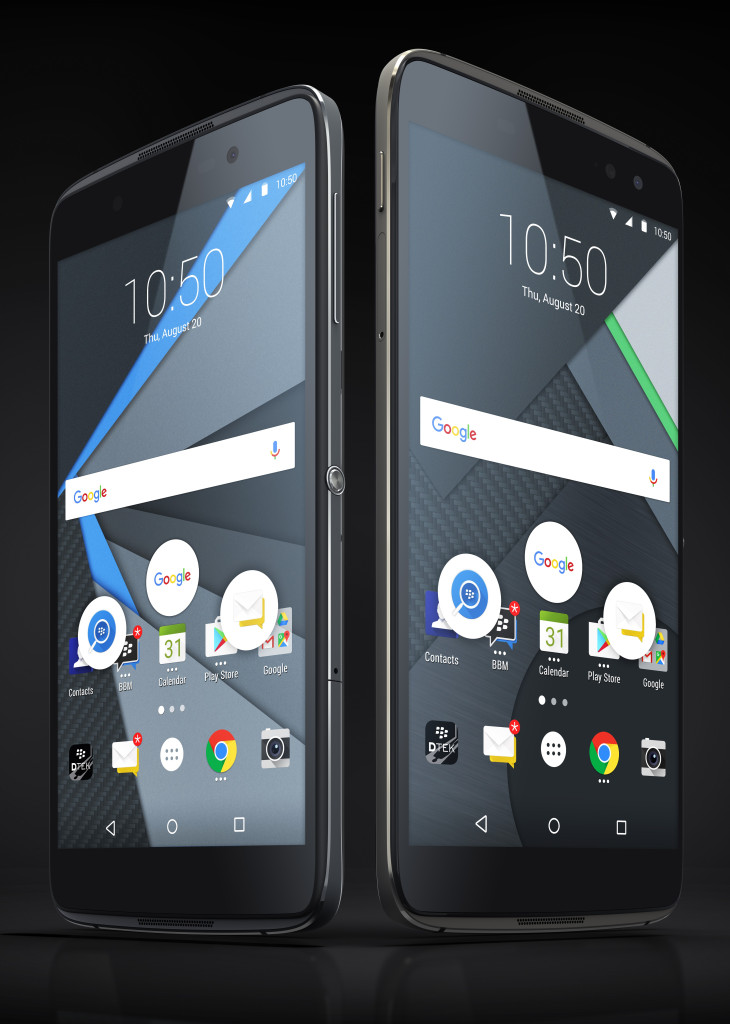 BlackBerry is focused on putting "the smart in the smartphone," leveraging our strengths in state-of-the-art software and security solutions. Soon, licensing arrangements will further expand the options for BlackBerry-branded devices, security, and productivity software to a wider, worldwide audience. But today we're excited to tell you about the newest device in our DTEK series of secure Android smartphones, DTEK60.
DTEK60 by BlackBerry is ideal for enterprises and organizations looking to deploy devices to manage the security and productivity of their data and employees. It offers best-in-class security for enterprise customers with flagship specs – but at a lower price tier than most flagship phones – to help power productivity and security for users and enterprises.
Secure From the Start
Our expertise in secure mobile communications and software engineering has made the Android OS more secure, more responsive, and more productive.
Like our first two secure Android devices, PRIV and DTEK50, DTEK60 has device security built in from the start. Our manufacturing process makes use of a unique technique known as the Hardware Root of Trust, which adds security keys to the chipsets inside the DTEK60 to prevent the device from being spoofed or counterfeited. Our Secure Bootloader uses multi-stage verification to ensure that the Android OS hasn't been tampered with, in order to protect business data against hackers rooting the device. We also harden Android to make things more difficult for attackers, protect all data stored on the DTEK60 with FIPS 140-2 encryption, and offer the DTEK app to monitor and fix privacy violations.
DTEK60 also features our new BlackBerry Fingerprint Sensor for added security and convenience when unlocking the device, accessing our Password Keeper app, and making purchases, including with Android Pay. You can save up to five different fingerprints for ultimate convenience.
Ongoing Security Delivers Protection Over the Long-Haul
When it comes to ongoing security, BlackBerry is leading all other Android smartphones. We have a record (shared with Google-branded phones) of being the quickest to deliver Android security patches. For example, BlackBerry was the first major manufacturer to patch out QuadRooter, a set of severe vulnerabilities which impact over 900 million Android devices with Qualcomm processors. Other manufacturers can take weeks, months, or even years to push out Android updates. With BlackBerry, you don't need to worry about your business data being at-risk due to a security bug – we've got you covered.
Through the acquisition of Encription, we provide extensive security testing services, and our BlackBerry Security Incident Response Team (BBSIRT) ensures that both publicly and privately reported vulnerabilities in DTEK60 and the rest of our products are rapidly addressed. In a highly connected world, security and privacy are paramount – and at BlackBerry, they are part of our DNA, at the forefront of everything we do.
Productive, Responsive Employees
You don't want your employees to feel like their work phone is second-rate. In order for a secure device to truly shine, people have to want to use it. That's why DTEK60 contains a number of software and hardware innovations that make it a great fit for both enterprise and personal use.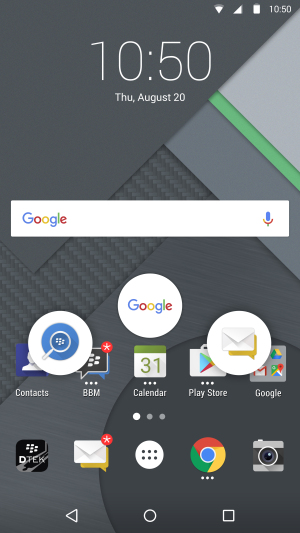 The DTEK app offers total control over user privacy by enabling users to monitor the OS and apps for unauthorized use.
A powerful, 3,000 mAh battery provides enough power to withstand up to 24 hours of mixed use.
The BlackBerry Hub is an irreplaceable productivity tool, consolidating all emails, texts, calendar, social media, and phone calls into a unified inbox.
The BlackBerry Calendar offers the best out-of-the-box calendar experience on Android, with automatic dial-in for meetings and robust scheduling alerts.
The BlackBerry Convenience Key provides quick, easy access to your most-used applications, tasks, and more.
A stunning 5.5-inch scratch-and-smudge resistant Quad HD display sports an incredible pixel density of 534 PPI and four times the pixels on a standard HDTV.
BlackBerry's Intelligent Keyboard learns how a user types and provides word suggestions that increase typing speed and accuracy in up to three languages of their choice.
An 8 MP selfie cam and 21 MP rear camera offer dazzling photo quality, with features including Phase Detection Auto Focus and a dual-tone LED flash to capture blur-free, realistic photos, even in low light.
Gesture controls allow for greater ease of navigation and can be customized for greater ease of use.
Device Search and Instant Actions allow a user to execute commands through the search bar, without having to seek out or open an application.
Expandable memory up to 2TB via the Micro SD slot ensures that users will never run out of space, and can download, install, capture, and share as their needs evolve.  
In short, DTEK60 makes life easier and more enjoyable for your employees both within the workplace and without – and makes them more productive as a result.
Only BlackBerry Provides an End-To-End Security Solution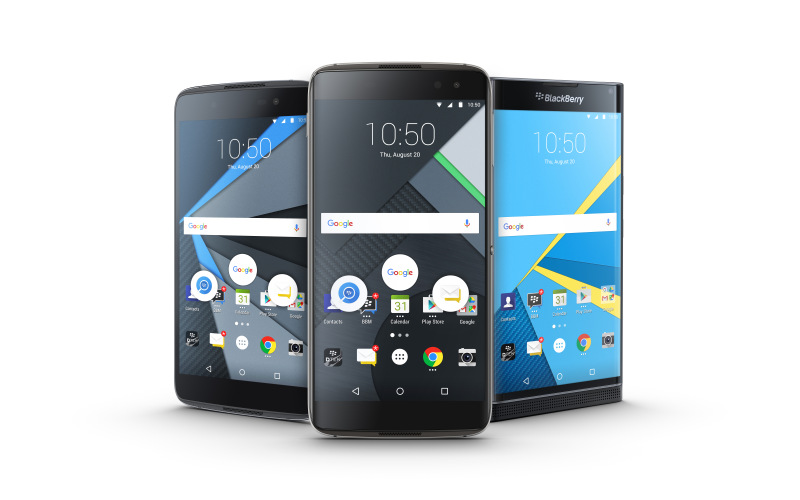 Through Android for Work, DTEK60 can integrate seamlessly and securely with your enterprise environment, while Google Play for Work enables easy access to a large selection of rich business and IT-managed apps. The real benefit to using it, however, is how readily it integrates with BlackBerry's productivity and security-enhancing software portfolio.
BlackBerry has the most secure and comprehensive suite of software and services to connect people, devices, processes and systems for today's enterprise of things – including BlackBerry Workspaces (formerly known as WatchDox by BlackBerry), BlackBerry Work (formerly known as Good Work), BlackBerry 2FA ((formerly known as Strong Authentication), SecuSUITE for Enterprise, BBM Enterprise (formerly known as BBM Protected), BlackBerry Enterprise Identity, and BlackBerry Unified Endpoint Manager (BlackBerry UEM, formerly known as BES12). BlackBerry ranks the highest in all six categories of Gartner's High-Security Mobility Management Study.
There are phones that are claimed to be secure, and then there's DTEK60. Its productivity and security enhancements make it the perfect business phone. And together with BlackBerry's EMM portfolio, it embodies the most comprehensive, flexible approach to secure mobility on the market.
The power of BlackBerry is now on Android. You – and your employees – deserve no less.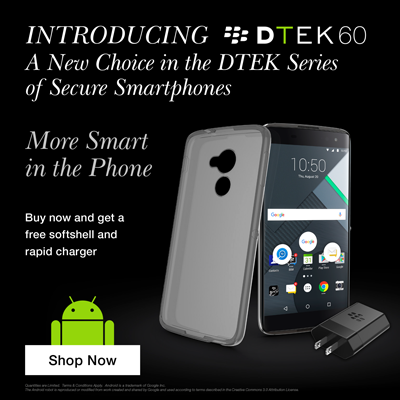 Starting today, DTEK60 is available to buy from ShopBlackBerry.com in the US, Canada, UK, France, Germany, Spain, Italy and The Netherlands for $499 USD. Availability of DTEK60 in additional global channels and countries will be announced in the coming weeks.
For a limited time, customers who order DTEK60 from ShopBlackBerry.com will receive a complimentary accessory bundle. US and Canada customers will receive a DTEK60 Soft Shell and Rapid Charger for free and customers in the UK, France, Germany, Italy, Spain and The Netherlands will receive a DTEK60 Pocket Case and Rapid Charger for free. This offer expires on November 8th at 11:59 pm PST.  
For more information on DTEK60, go to BlackBerry.com/DTEK60. Follow all updates related to DTEK60 on the Inside BlackBerry blog and on our YouTube BlackBerry Channel.
Be sure to also check out ShopBlackBerry for some great Black Friday deals – up to 53% off BlackBerry devices including PRIV, DTEK50, Passport, Passport Silver Edition, and Leap!