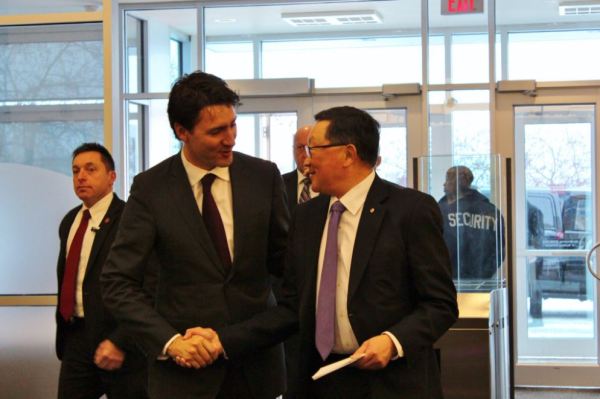 If we're ever going to see a self-driving car on the road, innovation is critical. Autonomous vehicles require software that is extremely sophisticated and incredibly secure, which is difficult – if not impossible – to implement without expertise. That's where BlackBerry comes in.
We have a decades-long track record of innovation and security leadership, and Blackberry QNX stands at the fore of the automotive software industry. We are thus uniquely positioned to take the wheel in developing the cars of the future.
That's why we're proud to announce the opening of BlackBerry QNX Autonomous Vehicle Innovation Center (AVIC). One of its first projects will be working closely with several partners including the University of Waterloo to build an autonomous concept vehicle. Canadian Prime Minister Justin Trudeau, who was present at Monday's launch, had nothing but praise for this initiative
"With the opening of its innovation centre in Ottawa, BlackBerry is helping to establish our country as the global leader in software and security for connected car and autonomous vehicle development," said Trudeau. "This centre will create great middle-class jobs for Canadians, new opportunities for recent university graduates, and further position Canada as a global hub for innovation."
Trudeau isn't the only one who has high praise for AVIC. Have a look at what some major publications and media analysts have to say about the news:
"BlackBerry will open an autonomous driving research center on Monday, as it tries to make itself an indispensable under-the-hood piece of the automotive industry's weaponry in the self-driving vehicle arms race." – Reuters
"If they can prove that they have the whole package and the security, they could absolutely dominate the market" – Sam Fiorani, Analyst, Auto Forecast Solutions (quoted in Reuters)
"The investment illustrates a significant shift that's underway at BlackBerry as the firm's focus shifts away from the mobile handsets and hardware that made it one of Canada's most recognizable corporate brands. Mr. Chen said BlackBerry is targeting the software security market, wherever security intersects with mobility." – Ottawa Business Journal
"Just because BlackBerry is done making its own smartphones doesn't mean it won't be a big name in consumer tech. The company has unveiled the BlackBerry QNX Autonomous Vehicle Innovation Center (AVIC), a facility in QNX's Ottawa home that will be key to building the framework for self-driving cars." – Engadget

"BlackBerry might be well-situated to make strides in the field. Its automotive infotainment software runs in 60 million cars today, and Canada has become a hotbed of artificial intelligence research. The country is heavily incentivizing AI work within its borders, giving more than $200 million this year to continue academic research." – Quartz
"BlackBerry's software can currently be found in tens of millions of vehicles around the world. Its efforts span a number of vehicle systems, including infotainment, telematics, digital instrument clusters and communication authentication. It's slowly making its way into more fledgling systems, as well, including driver assistance and over-the-air software updates." – CNET
"BlackBerry will try to insert its QNX tech into the places that matter most to customers: safety and reliability, helping manufacturers like Ford and "more than one or two major global automakers" make their self-driving cars more intelligent and better able to adapt to the unpredictable nature of live roads." – Android Central
"Daniel Chan, an analyst with TD Securities, believes revenue from BlackBerry's QNX business has been growing at 'double-digit rates' recently. Its deal with Ford is a sign that the software company could 'aggressively pursue relationships with automobile manufacturers directly.'" – The Wall Street Journal
Visit www.QNX.com to learn more about our solutions.