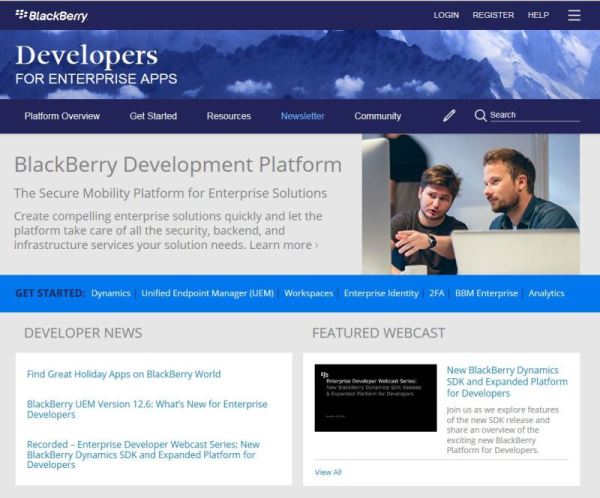 The BlackBerry Development Platform is an enterprise-grade toolset which enables developers to build secure, powerful, and customized mobility solutions for every use case. The platform augments the world class mobility capabilities of BlackBerry Dynamics for building secure apps by adding APIs for BlackBerry Unified Endpoint Manager (UEM), BlackBerry Workspaces, BlackBerry Enterprise Identity, BlackBerry 2FA, BBM Enterprise, and BlackBerry Analytics. With this rich collection of tools, developers can expand their scope to focus on both driving business value to enterprise organizations and enhancing the end user experience through secure, feature-rich mobility solutions.
The BlackBerry Development Platform includes:
Interested in becoming part of our growing community of businesses customers and partners who have already developed enterprise solutions? Check out our recently updated website for developers, or visit our app marketplace to discover secure, feature-rich solutions with our full catalogue of ISV partner apps. Customers and Partners can also register for our Developer Program to receive our next Enterprise Apps Newsletter.
For more on the new BlackBerry Development Platform story, you can also watch our latest webcast HERE.
Finally, if you're an enterprise application developer, engineer, or architect interested in learning more about the BlackBerry Dynamics SDK, consider attending the BlackBerry Developer Summit Europe on March 24, 2017 from 8:30 am – 5:30 pm GMT. While there, you'll gain hands-on experience with the newest features of the BlackBerry development platform, and address any questions you might have about BlackBerry's new software and services portfolio. The summit will be located at Kings Place Events, 90 York Way, London, UK.