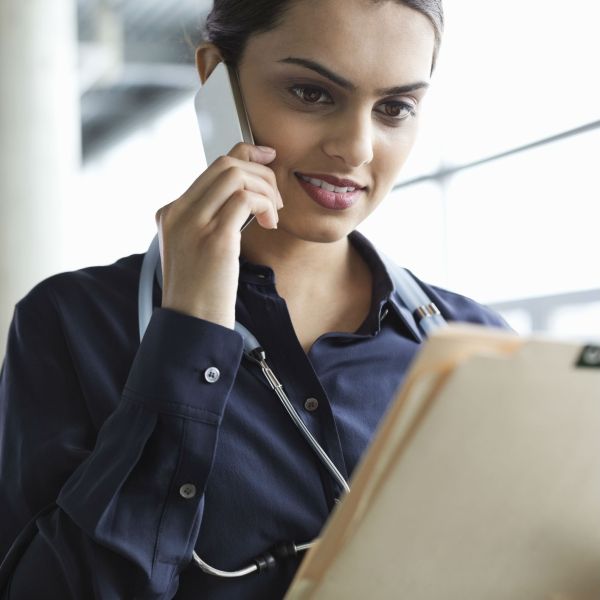 Because of mobile phones, people now expect anytime, anywhere access to information and answers. This creates a double-edged sword for doctors. While the ability to immediately reach an on-call doctor during an emergency could make the difference between life and death, most doctors hesitate at giving out their personal cellphone number for fear of intrusions into their private and personal life.
Tango Networks, a BlackBerry partner with technology that enables doctors to keep their personal number private, can help alleviate this mobile healthcare problem. Tango's Kinetic Communications Platform is a software-defined unified communications solution that turns any smartphone into a dual-line device, basically putting doctors' desk phones right in their pockets.
Accessibility Without Compromising Privacy
This platform allows doctors to choose whether to use their work number or personal number when making a call from their iPhone, Android, BlackBerry, or Windows Phone. When someone calls their desk extension, it rings on their smartphone, rather than going to voicemail in an empty office.
To eliminate confusion, the call notification tells the doctor both who is calling and which number the caller dialed so they can answer appropriately. If they can't accept a call, work and personal calls are routed into separate voicemail boxes, and when they make a work call, their desk number is displayed on the receiver's caller ID.
Cost Savings and Other Benefits for Hospitals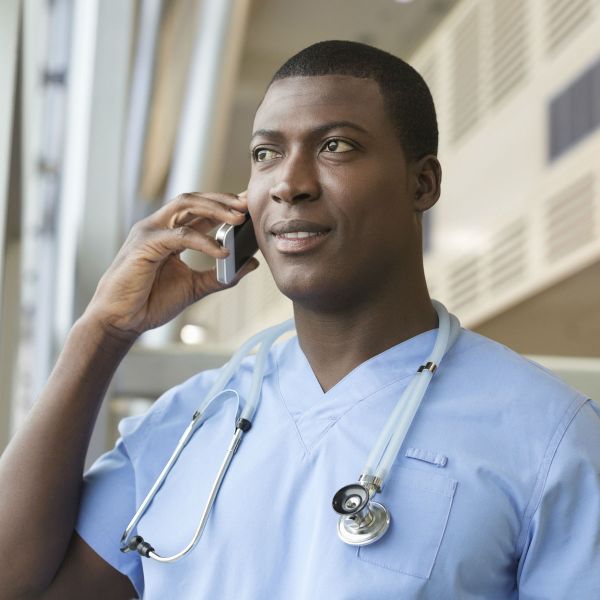 Hospitals and other healthcare organizations are operating under tight IT budgets and more government mandates, and we're finding that this type of solution helps them decrease spending while gaining efficiency. It further leverages existing Wi-Fi and cellular investments throughout the facility for further cost savings.
By substituting doctors' personal smartphones (whether in a BYOD or COPE arrangement or using company-owned devices in a COBO setup) for desk phones, Tango's Kinetic Communications Platform cuts hardware purchases and maintenance and decreases PBX infrastructure demands. Also, because it's a cross-platform solution and extension of an organization's existing PBX, unified communications, or other enterprise telephone system, the Kinetic Communications Platform extends the life of their existing telecom investments.
A side benefit: providing patients and staff a single number to quickly reach a doctor decreases confusion and frustration. Given that patient satisfaction has become a key factor in how hospitals are rated and reimbursed, delivering information to patients and hospital staff faster can produce bottom-line benefits.
University Hospital Birmingham Uses Tango to Operate More Efficiently
BlackBerry has been partnering with Tango Networks to help our healthcare clients address this communications challenge. At our recommendation, large UK hospital system University Hospitals Birmingham (UHB) NHS Foundation Trust recently began using Tango's solution along with its existing BlackBerry Unified Endpoint Management (UEM) solution (formerly known as BES12) and PBX to support mobile healthcare. According to Stephen Chilton, Director of Information and Communications Technology at UHB, Tango's Kinetic Communications Platform has enabled their doctors' smartphones to operate effectively as dual-line devices to make and receive calls over Wi-Fi and cellular using their switchboard extension number identity.
If you'd like to learn more about how Tango Networks and BlackBerry can help your healthcare providers communicate more effectively, download our whitepaper on UHB's experience, Major U.K. Hospital Trusts BlackBerry Enterprise Software to Empower Staff for Better Patient Care on BlackBerry for Healthcare, or visit Tango Networks' website.