Registration is now open and space is limited!
Join us at the BlackBerry Developer Summit Europe, March 24th, 2017, in London, UK. Secure your spot to learn and collaborate with the experts behind BlackBerry Enterprise Software, the world's most trusted solutions.
Whether you are a customer or a partner, or are an expert or new to the BlackBerry Dynamics SDK, we have interactive coding sessions that will help build best-in-class enterprise apps to mobilize today's businesses. This event isn't designed to just teach, it's designed to immerse, inspire, and allow attendees to create in real time, fueling the possibility for more efficient, productive, and creative application development.
During the event, attendees will have the opportunity to have hands-on experience with the newest features and capabilities of the BlackBerry Development Platform, leveraging the BlackBerry Dynamics SDK. Both Beginner and Advanced session tracks are available. We'll also have experts on hand to answer questions on the extended BlackBerry Development Platform.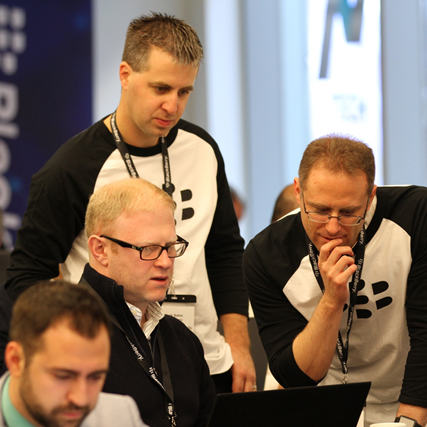 When:
Friday, March 24th, 2017
9:00 am – 5:30 pm
Where:
Kings Place Events
90 York Way
London, UK
Who Should Attend?
Mobile enterprise application developers, engineers, and architects from BlackBerry enterprise customers and partners. Attendees must be able to write code.
Why Attend?
The BlackBerry Secure Software Platform is powerful and flexible, enabling you to develop feature-rich apps and mobility solutions quickly and securely.
Develop Feature-Rich Mobility Solutions
The expanded BlackBerry development platform augments the world class mobility capabilities of BlackBerry Dynamics for building secure apps by adding tools for BlackBerry Unified Endpoint Manager (UEM), BlackBerry Workspaces, BlackBerry Enterprise Identity, BlackBerry 2FA, BBM Enterprise Services, and BlackBerry Analytics. This collection of tools offers opportunities for developers to expand their scope, focus on driving business value, and enhance the end user experience by developing feature-rich mobility solutions.
Hands-on Early Releases
Get an exclusive first look at BlackBerry's upcoming releases, including an early look at BlackBerry's recently released BBM(R) Enterprise Services, the next generation of Secure Communications SDK. This exciting new offering will enable developers to embed secure messaging into their own apps.
Step-By-Step Beginner and Advanced Training to Create Secure Enterprise Applications
Whether you're new to the BlackBerry platform or experienced, we have content tailored to your needs. Participate in hands-on training on the BlackBerry Dynamics SDK with iOS or Android and learn more about the Cordova and Xamarin development frameworks.
Network and Collaborate
Share your project with top BlackBerry development platform architects and engineers. You will also have a chance to collaborate with your peers to explore ideas and discuss solutions to common challenges.
See you in London!