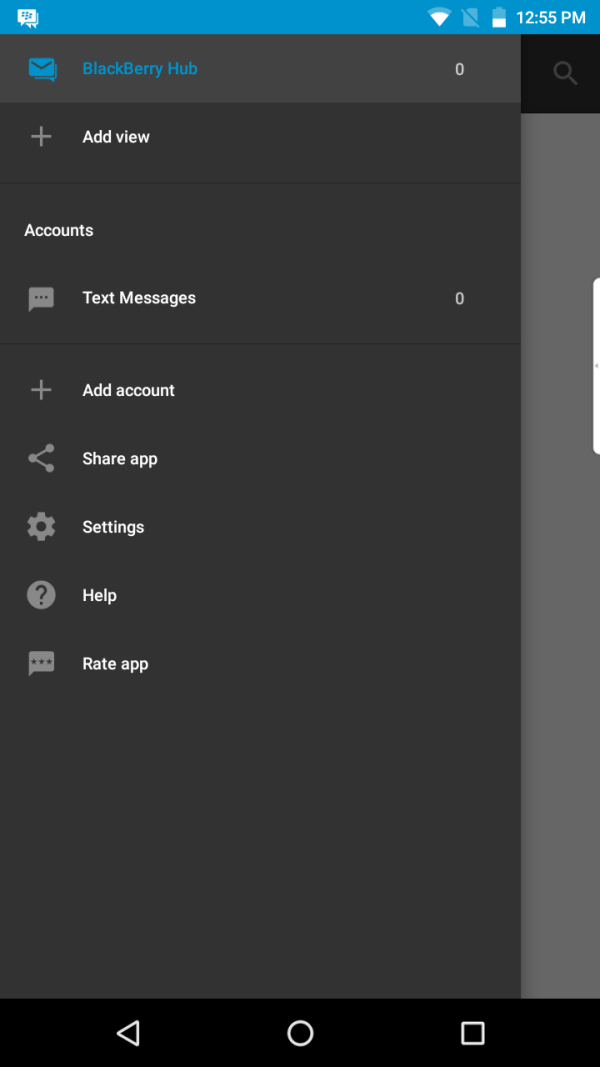 I'm feeling dark today, and it's not because it's winter (the days are getting longer, after all). It's because we are delivering on one of the most asked-for features of Hub: the DARK THEME (cue dramatic music). This feature is something our BlackBerry Android users have wanted on Hub for an extremely long time (for viewing comfort and, on OLED screens, some battery savings), and we're proud to bring it to them.
And "bring it to them" we will: With our recently announced long-term licensing agreement with Optiemus, we now have partners ready to manufacture and sell BlackBerry-branded smartphones to every market around the world. This means that whether you live in a mobile-saturated nation like Canada, the U.S., or Singapore or a rapidly emerging smartphone market like India, Sri Lanka, Nepal, or Bangladesh, you have – or will soon have – access to a device powered by BlackBerry's security-first version of Android, complete with the following new features.
Hub
Dark Theme: You can now enable dark theme support inside the Hub.
Attachment view: Bringing back a BlackBerry 10 feature, you can enable a separate view that just displays attachments. Tapping on a dedicated icon on the action bar allows you to quickly see all attachments in either a list view or a grid view. The view even displays attachments that have not yet been downloaded.
Support for .msg attachments: You can now view .msg attachments from within an email.
Additional Hub integrations: Hub now supports WeChat and Line notifications.
Filing improvements: Improved suggestions when filing emails based on most frequently used folders.
"Splat" notification improvements: Support for splatting (aka, the red and white Spark icon) on custom created views in the Hub
Enhanced S/MIME details: The S/MIME details of received messages have been expanded to better reflect details such as signature and certificate status, encoding algorithms, and any security warnings.
Enhanced S/MIME attachment support: Signed and encrypted messages that have both p7s and p7m attachments are now supported.
FIPS-validated S/MIME for BlackBerry Android: When Hub is used on BlackBerry Android smartphones, S/MIME functions are performed using the newly-added FIPS-validated crypto module for added security.
Password Keeper
Dark Theme: Password Keeper also gets a new setting to turn on dark theme.
How to Update
As with previous updates, you should receive a notification when the application updates are available in Google Play, at which point they should download automatically over Wi-Fi.
If you need to manually update:
Connect to a Wi-Fi network, then open the Google Play Store.
Tap the icon on the left side of the search bar, then select "My apps & games" from the menu that pops up.
Either tap "Update All" or select which apps to update on an individual basis.
Tap "Download" and the update will begin, even if you don't see a progress bar or another indicator.