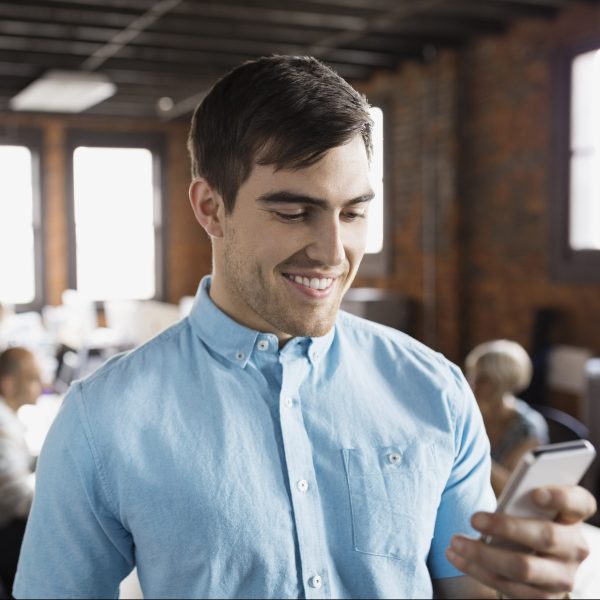 BBM Enterprise SDK is now BlackBerry Spark Communications Platform. Learn more, and download it for free at BlackBerry.com/Spark.
Earlier this week, BlackBerry announced some pretty big news – namely, that we're getting into the Communications Platform as  Service (CPaaS) market. By making the BlackBerry Spark Communications Platform available as a secure, hosted cloud service, we've made it easy for developers to integrate secure messaging, voice, and video into their apps. Developers can tap into everything that makes BBM Enterprise so secure, everything that organizations in industries like government and healthcare trust.
It's an exciting announcement – and one that's generated a lot of buzz not just amongst BlackBerry's software partners, but also with analysts and media outlets:
"We think these assets [BlackBerry's global NOC infrastructure and ecosystem of developers] represent an important competitive advantage and significantly reduce the number of direct rivals for the use cases and verticals that BlackBerry is targeting with its BlackBerry Spark Communications Platform. Coupled with a strong legacy and expertise insecure mobility, they place the company in a solid position to benefit from the growing demand for embedded communications services." – Raul Castanon-Martinez, Analyst, 451 Research
"When you look at [BlackBerry's] efforts, it becomes clear that it could be time to think of BlackBerry as a type of platform as a service vendor…I like this announcement (and the way it was delivered), and they're starting off 2017 in a good way." – Analyst Jack Madden
"The move is a textbook example of Chief Executive Officer John Chen's strategy of taking the company's existing technology and finding new ways to monetize it. Instead of the closed, device-focused BlackBerry that Chen inherited three years ago, the company now licenses its software and gives permission to other companies to make phones with the BlackBerry brand." – Bloomberg
"Spark also boasts a number of advanced features that aren't commonly found in consumer-grade messaging systems. On the IM front, there's the ability to edit, quote, delete, and retract text messages — essentially granting users full control over what they send. There's also location services, and custom statuses.…This move is emblematic of BlackBerry's pivot from being a hardware company, to one with serious enterprise software ambitions." – The Next Web

"The ability to communicate with customers who are engaged with a company's digital platforms, without sending them to an external channel such as a phone, is increasingly important to businesses…Under CEO John Chen, Waterloo, Ontario-based BlackBerry has been moving away from the device and hardware business and focusing on software, particularly in the area of security." – The Wall Street Journal
"BlackBerry's move puts it in direct competition with the likes of Twilio, which recently went public, and offers a similar platform for businesses. But BlackBerry will be hoping to attract customers based on its history in the security space, describing Spark as having "enterprise-grade" protection." – CNBC
"Enterprise developers and users will soon have another option for a messaging platform embedded within apps.…For example, a developer could leverage BlackBerry's BBM Enterprise platform into a ride-sharing app. As the driver and passenger exchange messages to arrange pickup, the driver's status can change to 'E,' indicating he or she is en route. Then, as the driver arrives, the same status indicator could change to 'A." – ZDNet
"The new cloud service, described as a Communications Platform as a Service by BlackBerry, opens up a new revenue stream for the company and signals a new focus on working with ISVs and partners" – IT World Canada
"At its peak, the Waterloo, Ont.-based company's encrypted e-mail and messaging system was the gold standard for security for enterprise and government customers, providing secure access for as many as 90 million users…Developers who deploy Spark will be asked to generate their own encryption keys, meaning BlackBerry will not have the ability to turn over to law enforcement any messages sent through this system, even if compelled by a court order." – The Globe and Mail
"As instant messaging becomes a primary means of communication in the enterprise, current market offerings do not provide the level of security and encryption for which BlackBerry is indisputably famous…BlackBerry's entrance into the CPaaS market will be beneficial to both enterprise and ISV developers in government, healthcare, finance, and loads of other markets." – Rapid Mobile

"It makes sense for enterprises to keep control of their assets. To be cozily wrapped in BlackBerry's security umbrella…[BBM Enterprise Services] is perfect for regulated industries, since an audit trail is left behind." – UTB Blogs
"By leveraging its security and encryption expertise, BlackBerry is able to provide top-level security for messages, voice and video on iOS and Android, ensuring company data stays protected as the role of instant messaging with enterprises continues to grow." – Silicon
"One of the best things for me about this announcement is the fact BlackBerry is not straying from the use of IP to transmit BBM messages, so no need for SMS. If you are developing apps for enterprise use, I can see Spark really expand your application offerings!" – NerdBerry
"[BlackBerry's] dedication to security [speaks] for itself. The company is going to take that reputation and use it to retool BlackBerry Messenger as an enterprise-level communications platform." – Engadget
CPaaS is the next frontier in enterprise communications. With a fifteen-year legacy in secure messaging, BlackBerry is more than ready to break into that market.  Whether you're working in healthcare, finance, government, or another industry altogether, Spark gives you the messaging capabilities that you need – without the security issues that you don't.