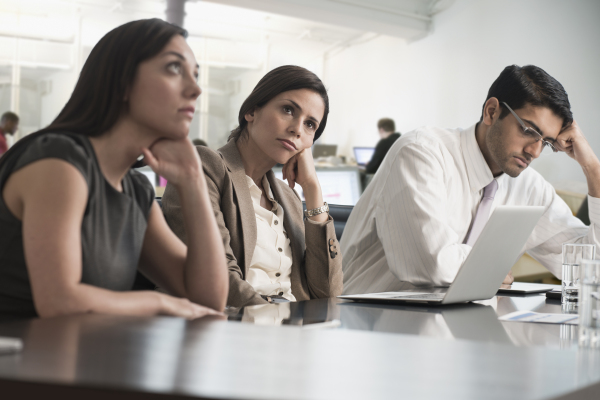 There are few workplace phrases that incite groans as much as, "Let's have a meeting on that." But sometimes the most efficient way to get work done is to get a group of people in a room and hash it out. Other times meetings are legally required – like boards of directors or stockholders' meetings.
We can't entirely avoid meetings, but we can use technology to make setting them up, sending and reviewing materials, and attending them as painless as possible. Virtual meetings allow us to meet right from our smartphones anywhere we can find a wireless connection. Digital and cloud platforms let us share meeting materials electronically, saving time and natural resources with fewer pages printed and shipped out to people.
It's essential, however, that the platforms used to send and access digital meeting documentation are secure. In other words, could end-user devices, email accounts, and cloud storage systems put your business data in the hands of hackers or competitors?
Simplicity Without Compromising Security
Security, especially if you're dealing with any sort of sensitive information, such as intellectual property, financial reports, customer data, government or regulated data, or any other type of confidential business information, needs to be foremost in your mind.
But ease-of-use also has to be a top consideration. If a platform is overly complicated or ugly, users will avoid it, electing for consumer-grade solutions that IT has no control over and lack the security enterprises require.
This is where iBabs comes in. As specialists in paperless meetings, iBabs blends security and simplicity to help you easily share meeting documentation without worrying it'll fall victim to malware, ransomware, unsecured devices, or other cybercrime activity.

iBabs, a BlackBerry Dynamics partner, containerizes your critical enterprise data with full end-to-end encryption backed by two-factor authentication and stored an ISO 27.001 certified cloud environment. Our secure infrastructure encrypts data in motion between the app container and behind-the-firewall resources so that, even if a device is compromised, corporate data remains protected.
iBabs also makes it easy for meeting organizers to share documents, agendas, and other materials, plus capture notes and assign tasks, within the app. The user-friendly interface enables meeting participants to access all past and future meeting materials, notes, annotations, and other documentation right in the app, without having to rifle through a chaotic mess of papers and folios.
Want to know more about how your company will benefit from secure, paperless meetings? Take a look at our infographic, "Paperless meetings in 6 easy steps", and visit the BlackBerry Marketplace for Enterprise to request a free iBabs trial.
While you're there, make sure to look around the Marketplace to learn about other enterprise apps built on the BlackBerry Dynamics platform. And, for more on how to securely mobilize all your core business apps, visit the BlackBerry Dynamics product page.