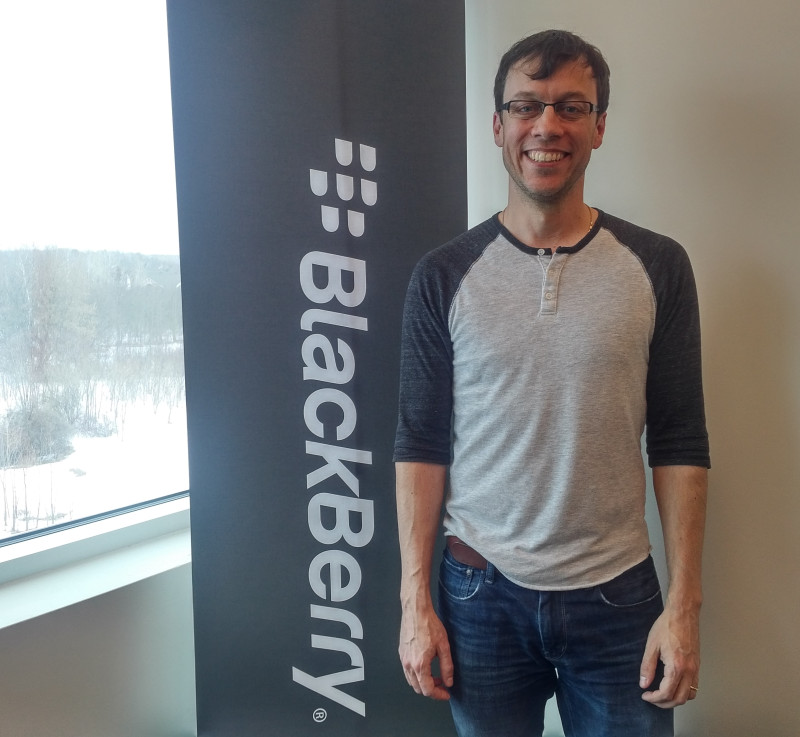 Who is Grant McSheffrey?
Like anyone else, the Inside BlackBerry team geeks out when it comes to the gameshow Jeopardy!
Imagine our ecstasy when we tuned in to the show last Tuesday and saw one of our own colleagues chatting with host Alex Trebek and winning the trivia contest of a lifetime.
The BBM Enterprise software developer subsequently won two more rounds – plus $70,000 in prize money – before coming home.
Home is our Kanata (Ottawa) office, where Grant is now a certified folk hero right beside Alex Manea and Katy Warren. We were eager for our turn to ask Grant some questions…
BlackBerry: Tell us a little about yourself?
McSheffrey: I was born and raised in Ottawa, went to school locally at Carleton University and have lived here my whole life. I'm married with two young kids and we love adventuring together.
BlackBerry: What do you do at BlackBerry?
McSheffrey: Like a lot of BlackBerry diehards, I'm a BBM enthusiast so I'm lucky I get to work on the new BBM Enterprise product. UI (user interface) is my specialty. Software engineers will understand when I say my most productive days are when I'm deleting lines of code I've written. Self-editing is an art.
BlackBerry: How long ago were the shows taped?
McSheffrey: The shows were taped this past December. When the gameshow is in production, five episodes are filmed every Tuesday and Wednesday. Each day they have 12 contestants in, and 10 make the show. It moves incredibly fast. If you win, they say "You have five minutes. Change your outfit. Go!" The gladiators probably had it worse.
BlackBerry: Have you always wanted to be on Jeopardy!? What was the testing and selection process like? Did you expect to make it on the show?
McSheffrey: It was a dream of mine for as long as I can remember, but expectations don't make dreams come true. It's been more than five years of trying. I made it as far as an in-person interview once before but didn't get the nod. I guess I'm somehow more likable now. I took my last online test in January 2016, got a call in October and auditioned in November.
BlackBerry: You didn't seem nervous in a situation that would terrify most people. How did you prepare? Did you have a strategy?
McSheffrey: I was absolutely terrified in my first game! My legs were shaking so badly I thought I'd collapse. I'd read about the different strategies successful contestants have used, but I was just trying to keep my balance up there. By the second game, I was thinking "Hey, I'm still standing and I'm still on Jeopardy"' so I started to relax and have fun.
BlackBerry: Did you practice?
McSheffrey: I like to watch the show, does that count? For me, I guess the big thing was mastering the buzzer. You're penalized a quarter of second if you ring in early. But if you wait until you see the judge's light on your console, you're too late. And if two contestants press their buttons simultaneously, they basically cancel one another out. Often you're thinking about the timing of your button press before the question to the answer.
BlackBerry: In terms of Jeopardy! categories, Kryptonite is to Superman as [blank] is to Grant McSheffrey?
McSheffrey: Recent books, literary devices or anything English teachers should know. Pop music is also a rough one.
BlackBerry: This morning we googled and your name was third. Is that surreal?
McSheffrey: It's completely surreal. Nothing like this will ever happen to me again and I'm trying to enjoy my moment in the limelight. My family and trivia club are getting an even bigger kick out of it than me.
BlackBerry: Do you have more Twitter followers now?
McSheffrey: Not really. I had very few to begin with. Now I have a few more. But I did get a like from Olympic medalist Clara Hughes who's known for her big smile too!
BlackBerry: Do you think you're smart?
McSheffrey: I think I love to learn. I always want to know how everything works and what's going on in the world. If you want to know lots of things, it helps to have an incurable case of curiosity.
BlackBerry: What will you do with the money you've won?
McSheffrey: Nothing immediately. But in a few years when my kids are older, we'll use some of the money for a ski trip to Kitzbühel in Austria. I've been fascinated by it since I was little and first saw pictures of the town and its mountains. Too bad it wasn't a category on the show because I have a lot of useless knowledge about the place.