At the end of the day, you're always seeking better, more efficient ways to get work done. Productivity is every bit as important as security. BlackBerry understands this – it's why our entire solutions portfolio is architected for ease of use, and why we offer the best Personal Information Management (PIM) solution on the market. It's also why we've equipped our Android devices with powerful tools like the Hub and the Productivity Tab.
Those tools just got even better.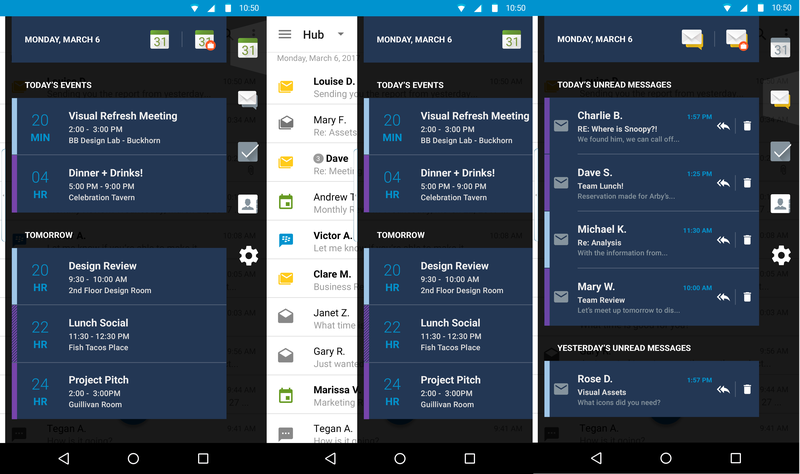 A series of pics showing the streamlined new Productivity Tab and its new features in action.
Today, we're proud to announce a major update for all BlackBerry Android devices, including PRIV, DTEK50 and DTEK60 (and coming devices). Available very soon through the Google Play Store, this update completely overhauls the Productivity Tab's interface, making it both cleaner and more user-friendly. It also adds new Quick Triage functionality (such as Reply All and Delete) for items in the Hub and new Quick Actions for entries in Contacts (such as Phone, Text, Email).
Users on a BlackBerry-branded Android phone should receive a notification when the updates are available in Google Play, at which point they will download automatically over Wi-Fi.
If you need to manually update:
Connect to a Wi-Fi network, then open the Google Play Store.
Tap the icon on the left side of the bar, then select "My apps & games" from the menu that pops up.
Either tap "Update All" or select which apps to update on an individual basis.
Tap "Download," and the update will begin even if you don't see a progress bar or another indicator.
For users on other Android devices, stay tuned – we'll let you know when the updates (and the Productivity Tab) are available to you!