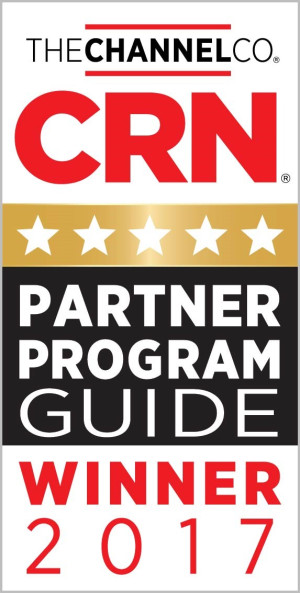 As companies keep investing in securely mobilizing their data and processes, there's a big opportunity for technology solution providers to help guide that transition. Our BlackBerry Enterprise Partner Program for Solutions Providers aims to connect solution providers with our comprehensive, world-class, BlackBerry Secure mobile platform that addresses every aspect of the Enterprise of Things.
We just received some accolades that prove we're delivering substantial value for our partners.
CRN 5-Star Rating
I'm thrilled to announce that CRN®, a brand of The Channel Company, has given the BlackBerry Enterprise Partner Program for Solutions Providers a 5-Star rating in its 2017 Partner Program Guide. Take a look at our showcase page.
CRN's annual guide is the definitive listing of partner programs from technology vendors that provide products and services through the IT channel. The 5-Star Partner Program Guide rating recognizes an elite subset of companies that offer solution providers the best partnering elements in their channel programs.
To determine the 2017 5-Star ratings, The Channel Company's research team assessed each vendor's partner program based on investments in program offerings, partner profitability, partner training, education and support, marketing programs and resources, sales support and communication.
This is fantastic recognition from the industry that our young program is on the right track. We've laid a solid foundation for our partners, so they can build their businesses around our BlackBerry Secure Platform.
Achieving 5 Stars in Just 11 Months
In the wake of a number of significant acquisitions in 2014-2015—including Good Technology, AtHoc, WatchDox and Encription—BlackBerry revamped its Solutions Provider Program to include the expanded portfolio of software and services. We launched the new, consolidated program on May 9th, 2016. We received this award in March 2017—just 11 months after our launch—achieving the coveted 5-Star rating the first time we ever applied.
In those same 11 months, we've gained over 1500 partners worldwide. We've been particularly impressed by the number of solution providers who have committed to our Platinum level, as it requires a significant investment of time and resources. It's a testament to the value they see in our program. I share a little more about the award in this short video:
Accelerating Growth, Increasing Value for Partners
Luckily, we didn't have to start from scratch when we re-launched our Solution Provider Program. We took the best parts of our existing program, plus all the individual partner programs from the acquisitions, and brought them together with the aim to help our partners profitably grow their businesses and deliver real, sustained value to their clients. We want all our partners to be successful planning, building, implementing and supporting the best-in-class BlackBerry solutions—and that continues to guide how we manage and develop the program.
Deal Registration
Deal registration is one of those best practices. We adopted the deal registration process we use today from the Good Technology partner program because of its strictness. A deal registration helps us give partners whatever support they need, providing maximum discounts, access to our sales teams and sales resources, and support for demos, quoting and closing the opportunities partners bring to us. It's a great way to build trust with our partners and efficiently coordinate our resources.
BBXLabs
The BlackBerry Experience Labs, or BBXLabs, is a live environment of the entire, integrated BlackBerry software portfolio. One of the sales resources for Gold and Platinum partners, BBXLabs is always running the latest version and always available for customer demos that show off the power of the full BlackBerry solution. It's a really impressive tool.
Specializations
Specializations verify our partners' expertise in specific aspects of the BlackBerry portfolio so they can differentiate their businesses and expand their reputations. The recently launched Workspaces Specialization validates partners' technical competency in deploying, implementing and supporting BlackBerry Workspaces, the leading secure enterprise file sync and share (EFSS) solution. We also offer Gold and Platinum partners the ability to earn the Shield Advisor Badge and gain access to BlackBerry's comprehensive and effective mobile security framework to help their customers improve their security. New specializations coming soon.
Learn more about the many benefits of the BlackBerry Enterprise Partner Program for Solutions Providers.
We're Just Getting Started
We're very proud of receiving this, our first big award, but we're not about to start resting on our laurels. Where do we go next? With our keen focus on partner satisfaction, ease of doing business and partner profitability, we're working on reinventing how we integrate our systems with our partners. Stay tuned for more exciting news on this front in the next few weeks.
We are a newly energized team with a lot of big ideas. Trust me when I say that we're just getting started building this program.