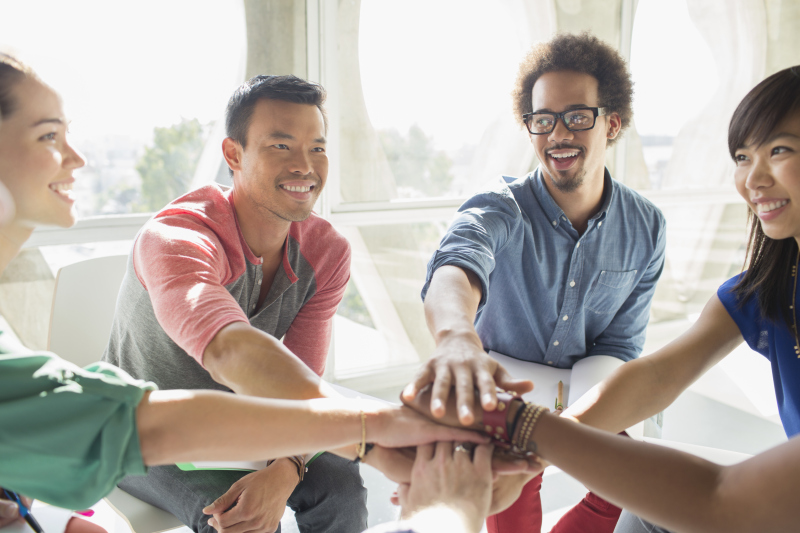 Offices are so last decade. Thanks to mobility, wearable technology, and the Enterprise of Things, employees can now work from anywhere.
It's your job to make sure they're able to do so without compromising corporate data – a tall order, but one that BlackBerry Applications are built to serve, across all devices in the enterprise.
Part of BlackBerry Secure, our comprehensive endpoint-to-endpoint approach to security, these applications together form a powerful productivity suite built on the secure foundation of BlackBerry Dynamics.  Each provides a critical facet of remote productivity without putting your data at risk. And together as a single platform, the experience they offer is like having an office in the palm of your hand.
Let's look at what these applications bring to BlackBerry Secure – and what we've done with them in our latest release.
Tap Into Better Analytics and Availability with BlackBerry Work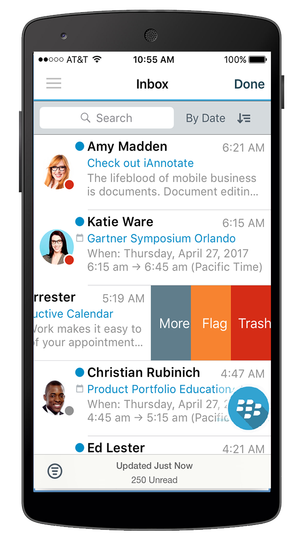 By streamlining business workflows, BlackBerry Work (right) maximizes the productivity of your workforce.  Our latest release includes integration with the new BlackBerry Analytics software, which gives you deep insight into how and when employees use your applications in the workplace. With this knowledge, enterprises can make better investment and training decisions. Employees can now also share contact cards, while Skype for Business meetings can be created and joined directly from employee calendars.
As the core of our application suite, BlackBerry Work is one of the most powerful productivity applications on the market, and the best Personal Information Management tool according to Gartner. Built for the business user and designed to offer a consistent experience across any device, it offers seamless navigation for any workflow with the BlackBerry Dynamics Launcher. With BlackBerry Work, your employees have one-tap access to whatever applications, data, or contacts they need.
Streamline Group Chat and Document Editing in BlackBerry Connect
BlackBerry Connect leverages your organization's existing enterprise IM investments to provide real-time presence information, communication, and file sharing. With our new release, we've made group chat available, reducing the chance of miscommunication and allowing for better communication both within and across teams. We've also added integrated document editing– employees can now make quick edits to shared files and send them back without having to close a chat.
Most businesses use enterprise IM such as Skype for Business or Cisco Jabber, but fail to extend these solutions to mobile due to security threats. When used on smartphones or tablets, these applications are both unencrypted and vulnerable to data loss. However, without these applications, users face communication silos due to lack of real-time communication. BlackBerry Connect solves both problems by securing IM, speeding up decision-making, breaking down siloes, and keeping your data protected.
Experience a More Advanced Remote Access Solution with BlackBerry Access
BlackBerry Access ensures workers can access corporate networks and data wherever and whenever they are—without the need for VPN. With our latest release, IT can deploy BlackBerry Access on both managed and unmanaged devices. With this easy onboarding and offboarding process, IT can extend corporate intranets and resources beyond traditional employees, to partners, remote workers, and contractors.
Just by entering their BlackBerry Access password, provisioned workers can tap into their business content within minutes. Developed using Google's Chromium libraries, BlackBerry Access replicates the familiar experience of Google Chrome, keeping training costs at a minimum. It supports Android, iOS Windows 10, and Mac OS devices.
BlackBerry Access also acts as a modern, cost-saving VDI replacement on laptops and desktops. Users can access corporate intranets as well as email, calendar, contacts, and document editing. With these integrated tools, users get a complete business experience, no matter where they are.
Keep On-Track with Calendar Integration in BlackBerry Tasks
BlackBerry Tasks makes it easy for employees to stay on top of their daily responsibilities and aligned with company projects. We've made this workflow application even better, allowing users to view tasks directly from their calendar.
BlackBerry Tasks is essentially a mobile Kanban board. Features like reminders, recurring tasks, sorting options, and the ability to convert emails into tasks, keep everyone on-track and productive. And with full Microsoft Exchange integration, Tasks is perfect for a project-oriented enterprise.
***
Employees demand anytime, anywhere productivity. They don't care about the challenges of data security. They want to do their work from anywhere, on any device, and at any time.
It's your job to see that they can. BlackBerry's business-class application suite makes that job simpler than you could ever imagine. It gives staff an amazing, seamless user experience that turns the world into their office – and gives you full control over your data, no matter where that office happens to be.
For more information about BlackBerry's updated software portfolio, check out our overview blog. Also read about the latest updates to our BlackBerry Dynamics platform, BlackBerry Workspaces, and BlackBerry UEM.