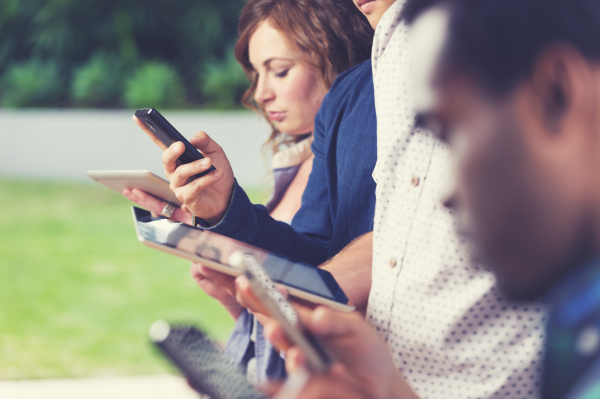 In this age of software that could potentially 'eat the world,' product iterations have to be comprehensive, responsive and extensive – and that's what BlackBerry's latest wave of enterprise software updates deliver.
With the recent upgrades to the BlackBerry Enterprise Portfolio, we continue to enhance IT's ability to accomplish three key things: Secure. Connect. Mobilize.
Some government agencies and high-security enterprises demand locked-down management and control of all their endpoints, including PCs and mobile devices. Other enterprises need the best BYOD and BYOPC management platform, while still being secure. With security at every level, BlackBerry's comprehensive, flexible platform can address enterprise needs, wherever you and your employees stand on the security spectrum.
Following the recent WannaCry ransomware scare, and other security breaches, enterprises must stay ahead of the bad guys who want their data, secrets and strategies.
(Keep reading, or skip ahead to the bottom to watch our launch webinar from June 13 for a video-basd overview).
One of the First to Support Application Protection for Microsoft Office 365 Applications
One way you can stay ahead of the bad guys: protect the applications your employees use every day. BlackBerry UEM helps enable that by applying Mobile Application Management (MAM)-level protection policies to the popular Microsoft Office 365 application on iOS and Android devices. BlackBerry is one of the first EMM providers outside of Microsoft to protect Office 365 on iOS and Android using Redmond's Intune Graph API. This gives workers access to a broader set of BlackBerry-secured applications, making them more productive.
Watch this video with our partner Microsoft, talking about the merits of our Microsoft Office 365 and BlackBerry UEM partnership:
Download and Go
With BlackBerry Access, businesses can provide a containerized environment for their temporary, contract or seasonal workers more rapidly and at a lower cost than legacy approaches such as Virtual Desktop Infrastructure (VDI).
When new employees join, organizations can quickly distribute BlackBerry Access to their devices. It creates a secure environment separate from the personal applications that contains all the collaboration and business applications these employees need to do their jobs.
When workers leave, even if the contract is very short-term, IT can remove the entire environment, simplifying the off-boarding process. On macOS and Windows 10, BlackBerry Access allows users to access not only the browser, but also corporate email, calendar, and contacts – a crucial capability in the event of a failed VPN connection.
Enhanced File-Level Security
Staying with workplace productivity and security, BlackBerry is also rolling out DocuSign Integration and Document Read Acknowledgement as new features for BlackBerry Workspaces.
Having file-level control and legally-compliant signature abilities not only speeds along contract negotiations and deals, it also keeps highly regulated enterprises compliant on the fly.
Also new in BlackBerry Workspaces is the ability for readers to make comments in-line in documents.  These are stored permanently and displayed alongside the files. Commenters can use the "@mention" feature to leave a comment for a specific person, who will be alerted.
These friction-reducing features boost your worker productivity while maintaining the end-to-end file security and management that BlackBerry Workspaces has always provided.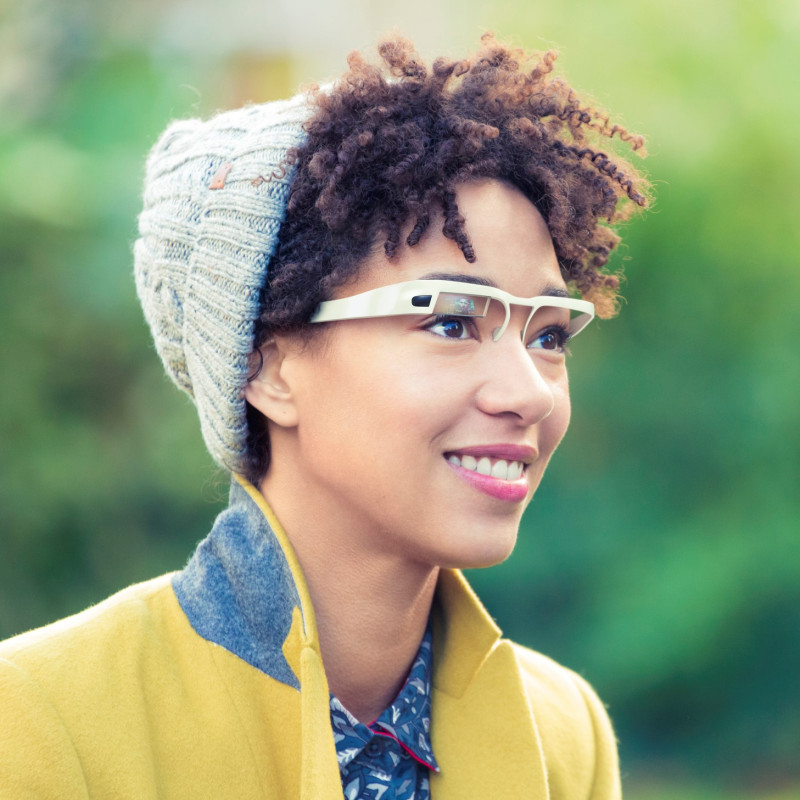 Smart AND Wearable
With strong partnerships such as Ubimax, and – as of August 9, 2017 – Vuzix, BlackBerry can support your enterprise wearable needs with an integrated offering to provide secure hands-free computing for your workers. BlackBerry UEM now provides IT departments with the ability to enact specific policies that simplify the provisioning and deployment of watchOS and Android Wear devices. An example is the ability to apply actions based on a device's location. If your enterprise plans to roll out the use of Android Smart Glasses, all of this can be done from the BlackBerry UEM console.
Beefed-Up Identity and Authentication Management
BlackBerry 2FA and BlackBerry Enterprise Identity both get significant improvements in this release, including:
BlackBerry UEM Cloud support: Manage BlackBerry 2FA from within UEM Cloud, providing integration with Enterprise Identity's federated services when it's deployed in an Identity as a Service (IDaaS) configuration;
Direct Authentication: Allow users to start the authentication process from their mobile device, simplifying access and allowing operation on problematic networks without resorting to One Time Password (OTP) codes;
Software OTP tokens: Provide users with One-Time Password (OTP) codes right on their mobile device with zero additional administrative overhead or seed file management;
VPN configuration in UEM console: Fully configure VPN connections and user assignments directly within the UEM console, making additions and changes easier and faster.
Custom SAML claims: Static and local SAML claims are now configurable for a given service, expanding the list of services that can be federated by Enterprise Identity.
Better Applications and Application Analytics
The new BlackBerry Analytics gives IT managers and developers insight into how workers use their applications. You can now track daily and monthly usage, device type, user engagement for your custom applications, 3rd-party Dynamics applications, and also BlackBerry Dynamics applications (such as BlackBerry Work, Access, Connect, etc.), and more. Enterprises will be able to monitor and manage just which applications their employees are using, how they're using them and, hopefully, how to make them more productive.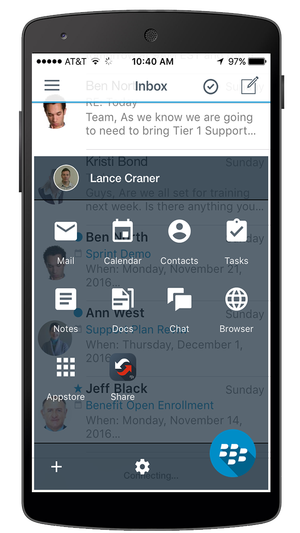 Speaking of BlackBerry's suite of productivity applications, enhancements include:
BlackBerry Work: better, more efficient calendaring and call scheduling, access to HTML5 applications via mobile desktop, and other productivity-enhancing features;
BlackBerry Connect: the new customer-requested feature of group chats, as well as integrated document editing via Microsoft Office Web applications, so that users can make quick edits and send the file back immediately.
BlackBerry Access: the enterprise solution for building and deploying secure HTML5 applications and accessing corporate intranets on the go, Access can now be deployed on both managed and unmanaged employee devices – a key feature in the BYOD era. Access now also enables VPN-less access to corporate intranets and enables employees using macOS and Windows 10 laptops to get their corporate e-mail, calendar, contacts, and documents (for editing).
The rollout of these enterprise security software upgrades is another chapter in the book that BlackBerry is writing as a market leader in enterprise security, management, and control.
For more information about BlackBerry's updated software portfolio, check out the latest updates to our to our application suite, BlackBerry Dynamics platform, BlackBerry Workspaces, and BlackBerry UEM. And watch our video introduction below. Finally, be sure to view the webinar "Best Practices for Deploying Smart Glasses In your Enterprise," co-hosted by Vuzix, Ubimax, and BlackBerry.