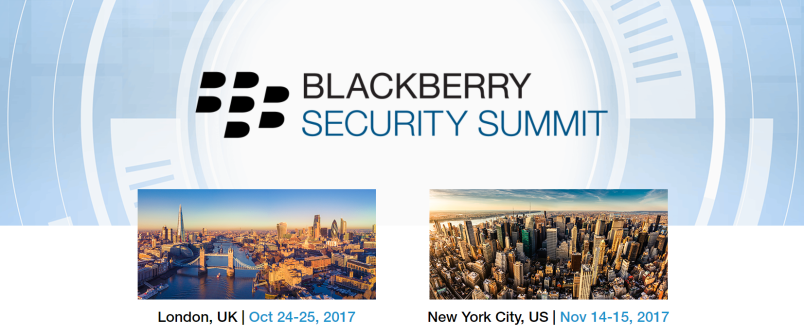 You can't afford to miss it. Your clients can't afford for you to miss it. As the recent Petya and WannaCry ransomware attacks have reminded us, enterprises have to get serious about security—today, tomorrow, and every day after that. This is not a drill.
Mark your calendars now for the BlackBerry Security Summits this fall. October 24-25 we'll be in London. November 14-15 we'll be in New York City. Last year's summit was so popular that we're adding an extra show this year for our EMEA customers—plus an extra day to both events just for partners!
Registration is free, and open now. Sign up today to reserve your spot.
Be in the Know, in Good Company
Gartner recently reaffirmed BlackBerry's position as a leader in secure mobility solutions. We know this space. We have the heritage, customers, certifications, IP and industry awards to prove it. And we recently refocused our company on it—because nobody else is equipped to deliver, at scale, on this massive market need right now.
At the summit, you'll be the first to hear about the latest updates to BlackBerry's vision and strategic direction straight from Executive Chairman and CEO John Chen, as well as other BlackBerry senior executives and notable guest speakers. Attendees will have the opportunity to meet industry leaders from inside and outside of BlackBerry, as well as security experts, peers, and representatives from our entire partner ecosystem.
You'll gain new insights on the rapidly-evolving field of enterprise security, have the chance to discuss current threats and learn how to mitigate risks for your clients' growing Enterprise of Things (EoT). There's no better place to get the information you need to better support and sell the portfolio of BlackBerry products and services.
Need more reasons? Watch our promo video:
Day One: Keynotes, Networking, and Partner Showcase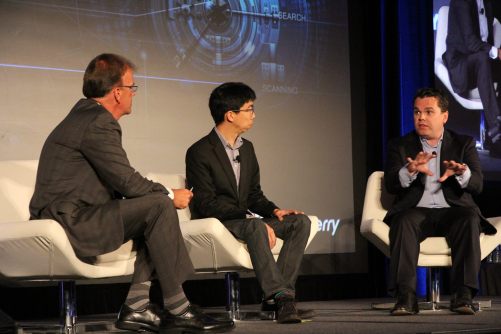 The first day of the summit is open to everyone, and will be focused on exploring the latest technology and trends via keynotes and breakout sessions on cybersecurity, digital transformation, the BlackBerry Secure Platform, and cybersecurity for cars.
These sessions are a chance to hear from some of the hundreds of security, mobility and IT professionals also in attendance, giving you an opportunity to share ideas and best practices. You can explore ways to further differentiate and optimize your business, as well as better support your clients.
As attendees will include c-level executives, heads of mobile security and security business units, partners will find networking opportunities with potential clients. Consider inviting your current customers as well, to help them learn more about the current environment and BlackBerry solutions.
Additionally, you can participate in the Partner Showcase as a sponsor or exhibitor. We designed the showcase to help partners and customers reach the next level of success. as a subject matter expert that is available to answer specific questions. Email us if you'd like more info about participating.
Day Two: Partner Summit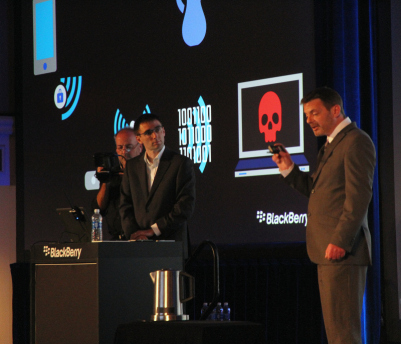 A must-attend event for those looking to grow their business with BlackBerry, the second day of the summit is dedicated exclusively to partners. Day two will teach you how to capitalize on the cybersecurity and digital transformation trends covered on day one. Presentations and breakout sessions will focus on our entire partner ecosystem of distributors, ISVs, and Solutions Providers, and how we can all grow together.
We'll share more in-depth about our company vision, our offerings and innovations as they relate to partners. You'll learn how to build or evolve your security solutions around BlackBerry's robust software and services portfolio. We are ready for connecting and securing the EoT, and we'll help you get there, too.
We'll also talk about the always-improving BlackBerry Enterprise Partner Program for Solutions Providers, which recently received a 5-Star rating from CRN in its 2017 Partner Program Guide. We are constantly working to add more tools and resources for partners, and we'll discuss how to take advantage of all the latest enhancements.
As this day will have fewer participants, you'll also have more opportunity to interact with the BlackBerry executives and employees in attendance, as well as have valuable informal discussions with other partners.
We hope you'll join us! Be sure to register today, and book the days on your calendar now: October 24-25 for London, and November 14-15 for New York City. See you there. And check out a video from last year's Summit, when we hacked a tea kettle to show how it could be an entry point for hackers: