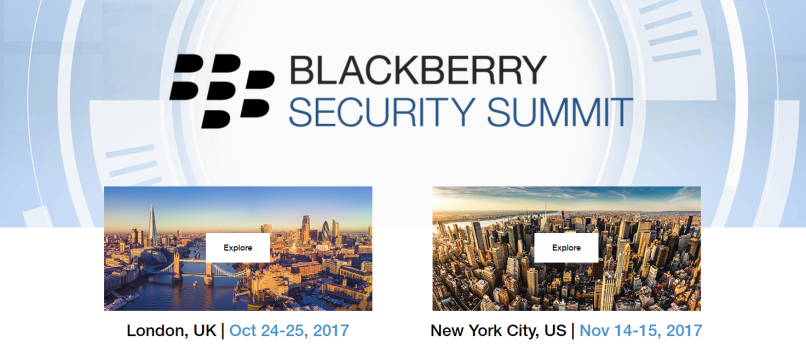 Register now for one of the 2017 BlackBerry Security Summits! Whether you attend in London (October 24-25) or New York (November 14-15), be sure to attend both days. The second day of both Summits is all about partners.
Attending a Summit will energize and inform your work for the year ahead. With over 55 different sessions, you'll get the latest news and software updates from BlackBerry, a worldwide leader in security mobility solutions. You'll also gain insights on the rapidly evolving field of enterprise security, so you can capitalize on emerging trends, better support and sell BlackBerry products and services, and build your business with us. Plus, you'll meet other BlackBerry partners and BlackBerry executives—particularly on the second day, when we've planned special events to facilitate face-to-face discussions and networking.
That's just too many opportunities to miss. Register today.
Day One is for Everyone—Including Customers
The agendas for both summits are now available online, so you can see exactly what you're signing up for—and start your preparations for attending. Take a look at the agenda for London here, and for New York here. (Scroll down to see the day-by-day listing of events.)
Executive Chairman and CEO John Chen kicks off both Summits with a keynote. Directly after, and for the rest of the first day, you'll choose to attend events and panels in one of three tracks: digital transformation, cybersecurity, and BlackBerry Enterprise Mobility Suite. Be sure to make time to visit our partner pavilion, which is sold out! We're seeing lots of exciting innovation and new services coming from our partners.
Bring your whole team so you can "divide and conquer," sending one or more company representative to each presentation. Invite your customers as well, so they can learn more about the future of BlackBerry solutions.
Day Two is Just for Partners
This year, we've added an extra day to the Summit focused 100% on our partners. After a networking breakfast, the morning sessions on day two provide more in-depth updates. Our COO Marty Beard and President of Sales Carl Wiese will take the stage to share strategic details about where BlackBerry is financially, in our turnaround plan, and with our evolving brand story. We'll talk about our sales focus, how we plan to close out fiscal year 2018, and what that means for our partners. We'll also lay out our vision for partnerships: what we're doing today, where we want to go, and how we plan to get there.
Two Session Tracks: ISVs and Channel
Then midmorning, we switch gears and offer sessions in two tracks: one for independent software vendors (ISVs) and one for channel partners. The ISV track is designed for those creating software that works with the BlackBerry platform, and selling both at once. Topics include integrating with BlackBerry Secure, best practices for joint selling, and taking advantage of the renewal and upsell process, as well as sessions specifically for selling in the financial services industry and to governments.
The channel track focuses on expanding business opportunities. Attend these sessions to learn how you can create new revenue streams for your business, and enrich your packaged services and mobile-security practices. Topics include extending the boundaries of BlackBerry unified endpoint management (UEM) with value-add solutions, capitalizing on the opportunity offered by cybersecurity and regulatory compliance, adding hosting to your offerings and leveraging the BlackBerry Secure platform, as well as learning about all the ways BlackBerry can support your business growth.
Face Time with BlackBerry Executives and Partners
In between these sessions, you'll find plenty of opportunities for networking. The Match-up Luncheon pairs you and other partners with BlackBerry executives in an informal setting to facilitate discussion. We'll also dedicate the final hours of the day to unstructured networking as well as an optional "speed dating" activity where channel partners and ISV partners can meet briefly to learn about each other's solutions, talk about collaboration opportunities, and exchange contact information.
All of This, in One Place, for Two Days
The 2017 BlackBerry Security Summits promises to bring our ecosystem together and prepare us all for the exciting year ahead. The industry is recognizing the strength of BlackBerry's offerings, with "leader" designations from both Gartner and IDC this year. We're also busy making improvements to our Enterprise Partner Program, including updates to the Partner Hub, announced recently.
BlackBerry has re-asserted itself in the mobile market. Today, we're ahead of curve and defining the future of enterprise mobility—and we want to make sure our partners are poised to go there with us. Please join us! Register your team today.
Invite your customers by sending them a link to this exciting video that explains why they should attend, and why we want them there.