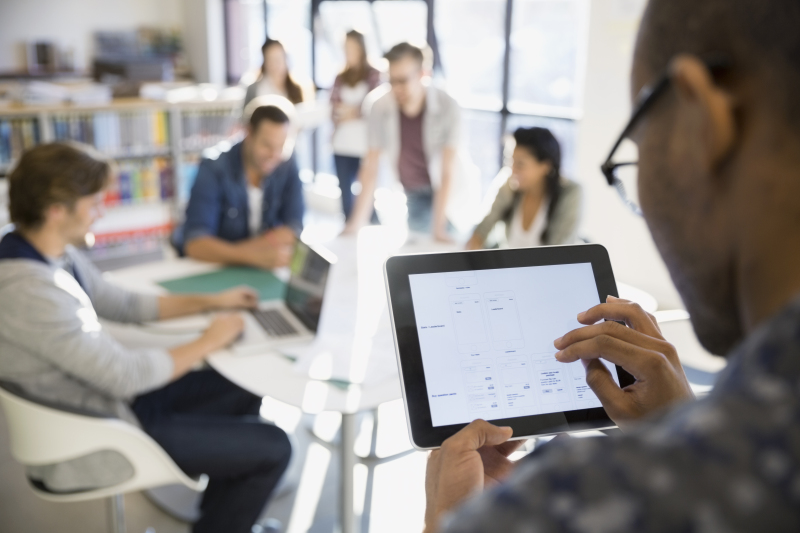 BBM Enterprise SDK is now BlackBerry Spark Communications Platform. Learn more, and download it for free at BlackBerry.com/Spark.
The best companies are often defined by their ability to communicate, both internally and externally, conveying everything from their strategic vision down to mundane tactical executions with the same clarity, precision and speed.
The proliferation of screens has given companies many more connected points from which their teams can collaborate and customers can be reached, but the truth is that most businesses still aren't using them to their full potential.
Communications Platforms as a Service (CPaaS), such as BlackBerry Spark Communications Platform, makes it easier for companies to securely reach their full communications potential.
The Benefits of Building Mobile Communications
While text messaging is a great personal communications tool for coordinating social calendars, personal errands and the like, it is hardly appropriate in many business settings. Think: a police officer investigating a crime scene; an ER physician consulting with a colleague; a financial planner discussing your investment strategy; and the list goes on.
Truth is that businesses in and out of highly regulated industries require a secure communication channel that fits easily into their existing infrastructure and workflow, one that enables rather than impedes the flow of information, be it between employees or externally with individual customers.
Imagine you're using a mobile banking app and you hit a snag and require technical support. Usually that means exiting the app in order to call or email your bank. Less than ideal, both for you as a consumer and for the bank which has just added to your frustration and must also shoulder the costs of managing customer communications across multiple platforms.
The solution is to build communications directly into enterprise apps, the ones your employees and customers are already using. Instead of having to move to a separate IM client, a worker can ping one of her colleagues from within the same enterprise app she's using. Instead of having to hop on the phone, a client can jump into a live chat with an advisor with one tap.
With integrated communications, you can also send high-quality push notifications to both customers and workers, such as automated appointment reminders. And by moving to secure messaging for authentication, you can avoid the pitfalls of text messages (SMS), which are easily-hijacked and difficult to track – you can't even be sure an SMS has been received – which makes it inappropriate for highly regulated industries and simply more cumbersome for everyone else.
Traditionally, building this functionality into apps and services has been both costly and time consuming, though that is rapidly changing along with what your customers will expect in terms of the communications services available within the apps they use.
The Power of CPaaS
CPaaS software acts as a complete framework with everything developers need to bake real-time voice, video, and IM features into their apps. With CPaaS, developers can quickly integrate pre-built communications features into their existing software. CPaaS software also serves as a back end for communications, so developers don't need to build and maintain their own.
Because your developers won't spend as long building chat features or maintaining a back-end framework, creating apps with CPaaS is both cheaper and faster than traditional development. It allows a business of any size to employ integrated real-time communications at only a fraction of its usual cost and complexity.
It's no great surprise then that the CPaaS market is on fire. According to Gartner, enterprise investment in CPaaS will increase to $4.63 billion by 2021, while IDC predicts that the total market will reach $8 billion by next year. There's just one thing missing – a platform with enterprise-grade security as its foundation. That's where BlackBerry comes in.
How BlackBerry's CPaaS Sends All the Right Messages
Built on BlackBerry's strength in secure mobile messaging, BlackBerry Spark Communications Platform – BlackBerry's CPaaS solution – gives your developers everything they need to integrate secure, enterprise-grade communications functionality into their apps. Reliable and scalable, it leverages our global communications infrastructure – the only one of its kind – ensuring high availability and reliability with its IP-based platform. It offers rich features such as secure messaging, voice, and video chat, group chat, read notifications, and file sharing.
Most importantly, Spark offers unmatched security and privacy – strong enough to be used in regulated industries such as law, healthcare, and government. Watch our video to learn more.
At BlackBerry, we know communication is at the core of every successful enterprise. No matter what industry you work in, better communication means better, more effective collaboration. That's why CPaaS is the next frontier in messaging – and why BlackBerry is at the fore of that frontier.