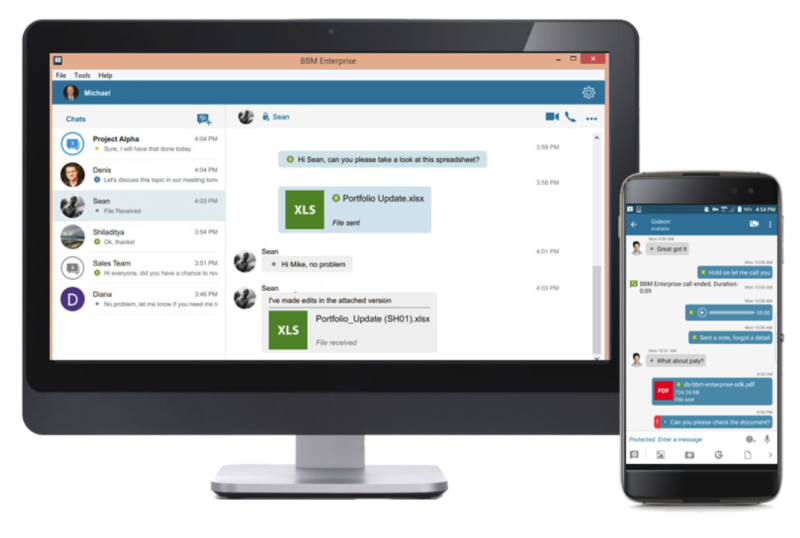 A surgeon who needs an immediate face-to-face consult with a colleague across town or around the globe. A business owner negotiating a merger.  A lawyer needing to consult with a client on an urgent matter.
Each needs a fast, efficient means of getting in touch. Instant messaging offers the speed, yes, but not the security required in healthcare, legal, financial services nor any other industry that values and safeguards its data and intellectual property.
Enter BBM Enterprise. For over a decade it has protected real-time communications for some of the most recognizable names in government and highly regulated industries. With its user-centric design, it supports secure text, voice, video, and group chat on any device, even if the recipient of a message isn't on BBM Enterprise.
It's the ideal communications platform for any security-conscious organization, and today we launched enhancements that make it even better and that with our SDK can also be embedded within your organization's existing apps.
With this latest release of BBM Enterprise, users can now access BBM Enterprise directly from both Windows and macOS. Even better, BBM Enterprise users can now access their account simultaneously on up to three devices, with all sent and received messages synchronized across all devices. You'll be able to stay connected, protected, and productive no matter where you are, and no matter what device you're on.
Other features in this update include:
Better controls for group chat administration, better status message functionality, and improved contact search.
A new "delete chat history" setting that allows users to control what happens when a chat ends.
Enhanced IT Policies that allow greater control over user actions within BBM Enterprise.
Retracting a chat now deletes both the existing chat and encryption keys for that chat from your device.
Whether you're a business owner trying to protect intellectual property or a medical professional trying to stay HIPAA compliant, BlackBerry has you covered. BBM Enterprise allows you to do everything you need to with your messages, without sacrificing security. It's a seamless collaboration platform, supported by industry-leading security and proven infrastructure – one that hammers home the difference between secure and BlackBerry Secure.
Visit our website to learn more about the update and download the desktop clients. If you want to add BBM Enterprise functionality to your apps, you should also check out the BBM Enterprise SDK.