All our channel partners got a shiny new set of tools recently when our new Partner Hub went live. As BlackBerry grows, we're investing in channel-focused changes to maximize partner profitability and help improve collaboration between our companies.
We're all about making it easy for partners to do business with BlackBerry. That's our number-one goal for the BlackBerry Enterprise Partner Program for Solutions Providers. We've been on a path of growth and progress over the past year, and have even more planned for the year ahead, including adding new programs, resources and training. We're focused on streamlining communications, strengthening our operational processes, and improving the order experience for our solutions-provider and distribution partners.
We're working to help our channel partners transform their selling process, providing them the speed, visibility, accuracy and insights needed to close more deals. That's what this Partner Hub is all about.
The new Partner Hub provides these three main features:
A centralized location for BlackBerry news, information and resources;
Complete renewal pipeline visibility for your BlackBerry customers; and
The ability to build quotes for BlackBerry software with our new Configure, Price, Quote (CPQ) tool.
News, Information and Resources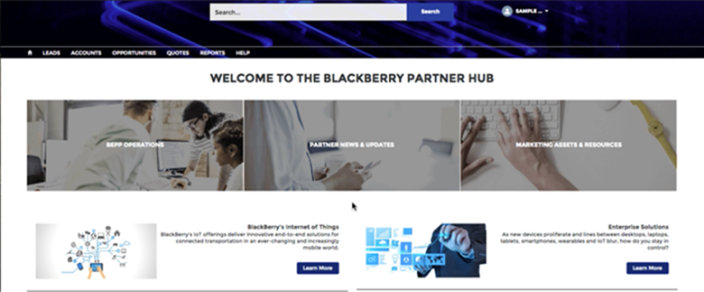 When you log in to the Partner Hub, built with the latest technology from Salesforce, you'll see an easy-to-use homepage with clear sections that make it easy to stay up-to-date with the latest news and product launches, help you discover the latest recommended assets and resources, and provide access to relevant operational documents.
Leads, Accounts, and Opportunities
Partner Hub's top navigation includes links to Leads, Accounts, and Opportunities. In these sections, you can access the BlackBerry-sourced leads assigned to you, as well as view the opportunities where you are the partner, enabling you to follow and collaborate with BlackBerry as customers progress through the sales stages.
Partner Hub also gives you the ability to add campaign tracking to your deal registration leads to give us true return-on-investment information for marketing discretionary funds allocated to you. 
As part of the new site, we've also improved the deal registration form. And soon, the mobile version of Partner Hub will allow you to enter new deals from your mobile device.
 Additionally, now you can keep on top of all your records (i.e. leads, accounts, opportunities) via a Daily Digest email. Just choose to get notified about any updates.
Configure, Price, Quote Tool
Integration into our sales process—that's the most powerful benefit for our channel partners. The most significant feature in the Partner Hub is our new Configure, Price, Quote (CPQ) tool for distributors and direct transacting partners. Use it to build quotes for BlackBerry software, enabling faster, easier, and more accurate ordering. It uses BlackBerry product intelligence with pre-set channel pricing for a streamlined process, ensuring accuracy.
As a result of upgrading the renewal process, we now automatically generate renewal opportunities immediately after the original sale, giving you complete visibility of the renewal pipeline. The CPQ tool also includes a one-click renewal quote wizard, eliminating any confusion on products and quantities required, and avoiding any disruption in service.
This implementation, with this level of detail, allows you to initiate renewal conversations early and will result in a massive increase in the efficiency for executing renewals.
Visit the New Partner Hub Today!
We've been working on the Partner Hub for months, and are so excited to finally deliver it to you. For a guided tour, contact your channel account manager (CAM) to arrange one. If you have any questions about the Partner Hub at all, please reach out to us via the BlackBerry contact form.
Be sure to drop by the new Partner Hub today, and let us know what you think through your CAM or distributor! We hope you immediately appreciate all the new tools and better access to information, and that they help you work more efficiently.