Legacy prevention and detect-and-respond technologies have had their merits during the evolution of malware. However, today's malware threats are far more advanced and prolific than ever before, and such techniques are no longer sufficient to protect your systems and network.
Relying solely on post-execution detection is a risky proposition for your enterprise.
"Today, the reactive approach is the anti-malware industry's greatest weakness. The model of reacting to what has already been seen, experienced, or known is limiting," said Chad Skipper, VP of Industry Relations & Product Testing.
"A pre-execution prevention strategy is the first step in building an effective security portfolio."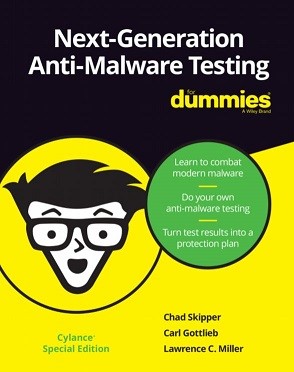 The basic requirement of any anti-malware solution: If a file is bad, block it. Although this principle is simple enough, the solution has been elusive. Until now. With the evolution of artificial intelligence (AI) and machine learning (ML) based pre-execution prevention, a very efficient anti-malware solution is now a reality.

For far too long, we've been conditioned to believe that our defense against malware will be adequate, as long as we keep our anti-malware software continuously updated to detect known threats.
When that approach increasingly began to fail, we were then conditioned to believe that a breach is inevitable, so we must add complex layers of defense to respond. This approach is inherently reactive.
The recently released book Next-Generation Anti-Malware Testing for Dummies suggests evaluating solutions based on the following:
Addressing the Attack Vectors: First, and foremost, an anti-malware solution must address all attack vectors
Effectiveness: Can your anti-malware solution provide a predictive advantage whereby it can prevent tomorrow's malware yesterday? Effectiveness is a single source of truth
Performance: Look for solutions that have a minimal impact on CPU and memory utilization, particularly on specialized systems
Ease of Use: Anti-malware products shouldn't require your end users to be security experts and shouldn't require specialized training to understand and use
Non-intrusive: Anti-malware should run seamlessly in the background, without interrupting the user experience or negatively impacting productivity
Platform Coverage: Look for a solution that provides proactive, predictive, and preventative techniques in anti-malware protection that can be applied across platforms, operating systems, file types, and devices
Deployment: Given today's Software-as-a-Service (SaaS) capabilities, look for solutions that require little (if any) capital investment and avoid extensive on-premises management solutions
Simplicity: Rather than deploying layers upon layers of legacy security products with complex, overlapping policies, look for an anti-malware solution that is simple, yet complete
Management, Reporting, and Third-Party Integration: Look for anti-malware solutions that provide robust management and reporting capabilities and can easily integrate into existing security information and event management (SIEM) platforms
Cost and Support: Beyond the initial acquisition cost, look at the ongoing maintenance and support costs
"There are many important criteria's that one should consider when evaluating anti-malware options for your enterprise," Skipper noted.
"We suggest ten here that should be a good starting point for the industry. Effectiveness, performance and ease of use are critical."
For more information on how to safely and effectively test anti-malware solution in your own environment, check out the recently released book Next-Generation Anti-Malware Testing for Dummies, which explains why you need to test different solutions for yourself and provides the details on how you can do it effectively.
While the publication is intended for IT managers and security administrators tasked with server and endpoint security in your organization, it is crafted to be accessible to non-technical readers as well, so you'll come away with more knowledge about malware and anti-malware solutions testing.
This resource is offered at no charge, and contains a wealth of information that will get your team up to speed in order to set up your own internal testing lab so you can better evaluate which anti-malware solution Is the best for your organization.
Download Next-Generation Anti-Malware Testing For Dummies, and feel free to reach out to our team of experts for more information on why testing for yourself is the key to furthering your endpoint security efforts.