BlackBerry made great strides in executing our business strategy in 2017.  We are no longer in turnaround mode and are pointed in the right direction. Seven consecutive quarters of positive operating income and an enterprise cybersecurity software and services business that's growing at double digit rates delivering 85% of total company revenue in the last quarter. And we believe we are still in the early phases of building our enterprise business with a lot of room to expand in the future.
Additionally, we have been emphasizing for more than a year the importance of securing embedded design wins for BlackBerry QNX to serve as the safety-certified foundational operating system for connected and autonomous vehicles. Victories here give BlackBerry a second very powerful growth engine to complement our larger enterprise business. The connected transportation future is an opportunity that plays to our historical strengths, that we believe BlackBerry is uniquely positioned to capture, and one where the pace of our progress has visibly accelerated of late.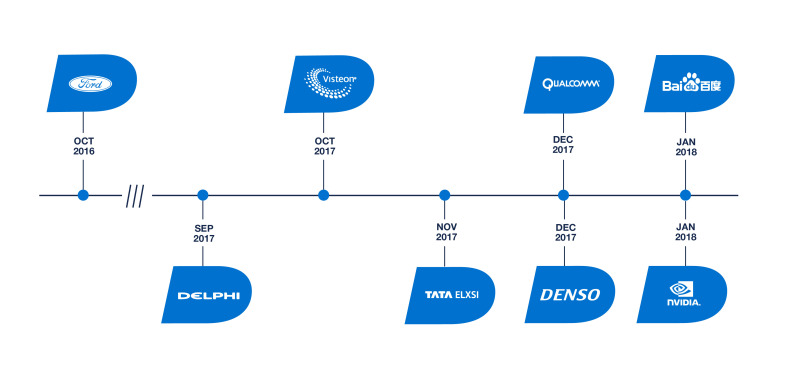 The momentum began building in October 2016 when we announced an extensive partnership with Ford Motor Company to embed even more of our technology directly into their designs for increasingly connected and autonomous vehicles; and continues today with NVIDIA's announcement (video starts at 1hr 02min 03 secs) that BlackBerry QNX's safety-certified operating system has been chosen to be the foundation for NVIDIA's functionally safe AI self-driving development platform. Automotive makers across the world will have the ability to develop self-driving vehicles leveraging the latest AI technology and GPU-based processing power of the NVIDIA DRIVE platform, built on the critical safety framework required to take self-driving vehicles to market.
As we head into CES and NAIAS (Detroit Auto Show), I think it is helpful to recap the sustained progress in our automotive business:
With the arrival of the New Year our momentum continues as we announced a new partnership with Baidu, whereby BlackBerry QNX will be the foundational safety-certified OS to power Baidu's open Apollo platform for building autonomous and connected vehicles.
This has been a busy few months and the culmination of years of research and development and relationship building. And we are just getting started. With two growth engines coming up to speed, our enterprise cybersecurity and automotive capabilities will converge on an even larger opportunity: A hyperconnected world of people, enterprises, vehicles, assets, infrastructure and more where the secure flow of information across a vast array of endpoints is both mission- and safety-critical.
In this fast approaching future, BlackBerry is uniquely positioned. Our safety-certified embedded systems and technology; IP portfolio; and military-grade cybersecurity tools and services for secure communication, collaboration and endpoint management are all powerful and necessary enablers of the IoT reaching its full potential. With each new Enterprise of Things (EoT) deployment and every bit of progress in connected and autonomous vehicles, BlackBerry is feeling the acceleration. The road ahead beckons and we're eager to see where it leads.