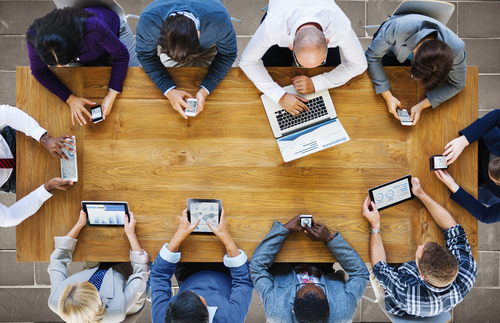 BlackBerry has officially launched a new, comprehensive update that bolsters our industry-leading BlackBerry® Secure platform. This release marks the next step along the path we've set out for ourselves: securing the growing Enterprise of Things (EoT).
This launch includes a wide range of new software capabilities. Here's a list of the top 5 most-exciting things your customers will be able to do with this release:
Support native Office 365 mobile apps in even the most regulated environments
Communicate with end-users from BlackBerry UEM via phone, text, and mobile notifications
Securely deliver corporate and IT-recommended apps to any user
Support desk-to-mobile convergence to allow outbound calls on a BYOD device use a desk number
Get better insights into apps with user- and feature-level monitoring for corporate applications
Securing Workflows, Workplaces and Workforces
A big part of our strategy is evolving our Enterprise Portfolio to anticipate and shape—the trends shaping today's hyperconnected organizations. EoT transforms every function of how we work: the workforce, workplace and workflows. So that's where we focused our improvements for this release: enabling the future of employee-owned devices in the enterprise, greater integration with Microsoft apps and cloud with BlackBerry Secure, and ensuring enterprise workers can securely collaborate both inside and outside the company firewall.
With this update, we've expanding the ability of BlackBerry Unified Endpoint Management (UEM) to empower the future of enterprise bring-your-own (BYO) device policies, including enhanced support for unmanaged devices and wearables, and new desktop capabilities, as well as improvements to drive secure mobile productivity with basic cloud storage, file security and sharing, and device synchronization.
For your customers who may be using multiple enterprise mobile management (EMM) platforms, this release offers an opportunity to consolidate them into BlackBerry UEM. We've added the ability to seamlessly migrate users from Good Control, bring in multiple device enrollment program (DEP) accounts, control biometric identification capability on devices, and more.
Securely use Microsoft mobile apps with BlackBerry Enterprise Bridge
We've expanded our integration with Microsoft apps and services, particularly Office 365 apps for iOS and Android, via the BlackBerry Dynamics secure mobility platform. The Dynamics platform provides a range of SDKs and plug-ins that allow you to connect mobile employees to web apps and corporate intranet resources without the need for virtual private networking (VPN). Through BlackBerry Enterprise Bridge, partners can elevate the mobile user experience by providing seamless, secure access to native Microsoft apps as well as Skype for business online, OneDrive, and SharePoint from Dynamics apps. The BlackBerry Secure platform has also been integrated with the Microsoft Azure Cloud platform. Specifically, BlackBerry UEM Cloud, BlackBerry Workspaces, BlackBerry Dynamics and BlackBerry AtHoc are now available on Azure.
BlackBerry partners have the unique ability to support Microsoft 365 in highly secure and regulated environments. This is a great opportunity to both drive your customers' Azure consumption and also help them secure the Microsoft apps their workers are using without proper security, or those who haven't yet deployed Microsoft apps to mobile devices because the security risk was too great.
Confidently externalize business processes
Many organizations work with partners, customers, and suppliers in a way that requires document sharing as part of day-to-day operations. And increasingly, businesses outsource core functionality like human resources, accounting, engineering, and customer service. This is business process externalization, when work happens outside the company firewall. BlackBerry Workspaces allows your customers to share files securely and maintain control over their documents.
For BlackBerry partners, Workspaces is a key piece helping clients protect their assets—especially those in security-conscious or highly regulated industries who need to meet certain requirements and also report on their compliance. We've made a number of improvements to Workspaces in this release to make this product even better.
In addition to these areas of focus, we're also continuing to build and improve tools for enterprise developers and ISVs, so you can leverage the BlackBerry Enterprise Platform. These efforts include continued expansion of SDK and API integration capability for developers across our full set of solutions.
To learn more about all the improvements in this launch, you can read the Spring Launch blog post, check out the Enterprise Platform Update page, listen to a recording of pre-launch briefing webcast, and dive into all the assets on the Partner Hub, including the What's New deck, updated messaging docs, updated pitch decks, and more.
What's Next: BlackBerry Secure World Tour
These improvements—and the next batch we are already working on—continue to extend BlackBerry's leadership in enterprise management, supportability and security.
To continue the industry conversation about the empowering the securely connected workforce, BlackBerry is taking our show on the road. Join us for one of the events in the BlackBerry Secure World Tour this May. In 10 cities across North America, Europe and Australia, we'll be connecting with CIOs, CSOs and business leaders as we talk about how to develop a holistic security strategy that will revolutionize the way organizations work.
BlackBerry's transformation to a software and security company is complete, and we couldn't have gotten here without our partners. Together, BlackBerry and you, our growing network of BlackBerry Solution Providers, are empowering the securely connected workforce.