"Golfing Scientist" Embodies Cylance Innovation and Spirit
Cylance would like to congratulate Bryson DeChambeau on winning the 2018 Memorial Golf tournament yesterday in Dublin, Ohio, an event hosted by golf legend Jack Nicklaus. This was 24-year-old DeChambeau's second career PGA Tour title in a playoff, winning with a 12-foot birdie putt on the second playoff hole. This win moves him to No. 8 in the Ryder Cup standings.

"From sports to philanthropic causes to company culture, Cylance embraces breakthrough innovation and spirit," said Stuart McClure, Chairman and CEO at Cylance. "Bryson applies math and science to his iconic golf swing in the same way Cylance prevents advanced security threats with artificial intelligence and machine learning. Today we are proud to congratulate Bryson for a remarkable victory as he challenges the status quo and revolutionizes the golfing world."

In 2015, Bryson DeChambeau became the fifth player in history to win both the NCAA Division I championship and the U.S. Amateur in the same year - following Jack Nicklaus, Phil Mickelson, Tiger Woods and Ryan Moore. He said this week was the best he'd putted since his U.S. Amateur victory.
"I am incredibly excited to have won the Memorial PGA Tournament," DeChambeau said. "Thank you, Cylance, for the support, and I look forward to continuing to play well the rest of the year."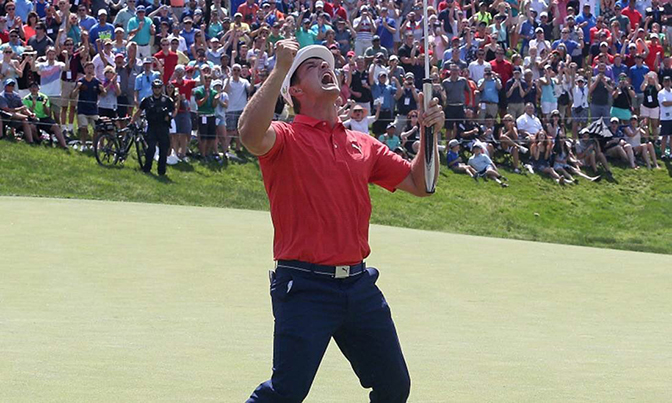 DeChambeau: Golf vs. Math
Cylance-sponsored DeChambeau is known as the "golfing scientist." Majoring in physics, he has an almost mathematical approach to his game, and is probably unique among golfers in that he gets asked the physics behind his single-length set of irons at every tournament stop.
The secret is in the single-length irons he uses, which are seen by some as a better and more simple way to play. His Cobra utility irons, King Forged irons and Kiong wedges all come in at 37.5 inches in length, similar to a 7-iron. The idea is that "one length promotes one swing, one swing plane, and one posture." Consistency is the name of the game here, and DeChambeau's clubs also boast 123-gram JumboMax XL grips, which make the weights work with the one-length clubs.
His innovative technique seems to be working, as he garners this second PGA Tour victory.
"To be able to win on Jack's (Nicklaus) course is pretty special," DeChambeau said. "This is probably the most important win I think of my entire career…. To be able to do that, I am speechless, honestly."
DeChambeau's sponsorship is managed by Inspire Sports, managers of Cylance professional athletes and teams including Cylance Pro Cycling and Denise Korenek, who holds the women's world record for fastest speed on a paced bicycle.
Follow @cylancesports and @CylanceCycling for more updates on the latest in Cylance-sponsored sports action!