What if I told you that the most effective way to hack an election isn't injecting code into a voting machine or surreptitiously changing the vote count, but rather by means of clever and extensive use of popular social media platforms like Facebook and Twitter?
The major platforms are designed to be able to target specifics groups of people who fit specific profiles demographically. Nefarious organizations can use those platform features to influence public opinion and dialogue.
Bots can create what appear to be armies of people who publish what seems on the surface to be "news" that finds a home with like-minded people. And that, friends, is how someone half a world away can sway an election from an iPhone.
In this episode of the InSecurity Podcast, host Matt Stephenson is joined by special guest Clint Watts, national security contributor at MSNBC and author of the recently released best-selling book Messing with the Enemy: Surviving in a Social Media World of Hackers, Terrorists, Russians, and Fake News.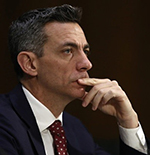 About Clint Watts
Clint Watts (@selectedwisdom) is a Robert A. Fox Fellow in the Foreign Policy Research Institute's Program on the Middle East as well as a Senior Fellow at the Center For Cyber and Homeland Security at The George Washington University. Watts is a consultant and researcher modeling and forecasting threat actor behavior and developing countermeasures for disrupting and defeating state and non-state actors.
His research predominately focuses on terrorism forecasting and trends seeking to anticipate emerging extremist hotspots and anticipate appropriate counterterrorism responses. More recently, Watts used modeling to outline Russian influence operations via social media and the Kremlin's return to Active Measures.
Before becoming a consultant, Clint served as a U.S. Army Infantry Officer after graduating from West Point, an FBI Special Agent on a Joint Terrorism Task Force (JTTF), as the Executive Officer of the Combating Terrorism Center at West Point (CTC) and as a consultant to the FBI's Counter Terrorism Division (CTD) and National Security Branch (NSB).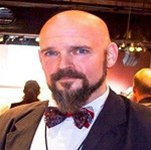 About Matt Stephenson

Insecurity Podcast host Matt Stephenson (@packmatt73) leads the Security Technology team at Cylance, which puts him in front of crowds, cameras, and microphones all over the world.
Twenty years of work with the world's largest security, storage, and recovery companies has introduced Stephenson to some of the most fascinating people in the industry. He wants to get those stories told so that others can learn from what has come before.