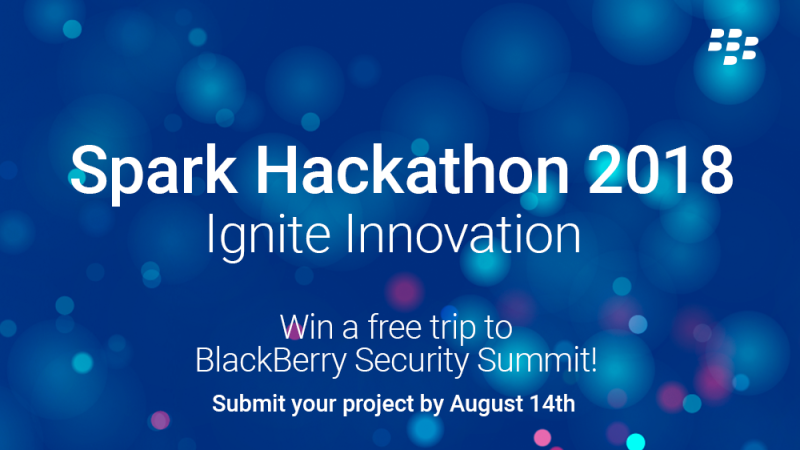 The ability to communicate, both internally and externally, is absolutely essential to the success of any organization. In today's hyperconnected world there is a proliferation of avenues for teams to collaborate and customers to be reached, but the reality of the landscape is that most businesses are not using them to their full potential. This is where Communications Platforms as a Service (CPaaS), like the BlackBerry Spark Communication Platform, can provide a solution. Putting into consideration that enterprise investment in CPaaS will increase to $8 billion by 2018 alone, there is no doubt that the importance of a secure, efficient communications platform is a necessity.
To help aid in this development, BlackBerry is launching the first ever Spark Hackathon. Open to developers 18 years and older from across the globe, BlackBerry challenges YOU to build the most innovative, creative, and functional project utilizing the BlackBerry Spark Communications Platform. Entrants will be provided access to a software development kit that will allow them to build solutions using the BlackBerry Spark Communications Platform, enabling developers and companies to embed secure enterprise-grade IP-based messaging, communications (voice, video), data transfer, streaming and collaboration functionality.
With the BlackBerry Spark Communications Platform, developers can create powerful business apps for communication and collaboration that adhere to the some of the strictest security requirements. This is something that market leaders in the intelligent device space are asking for, which is why we are excited to work more closely with the developer community to help facilitate their ability to create the IoT projects that future businesses will depend on.
Submissions may be any kind of software application or project developed using the BlackBerry Spark Communications Platform. Preference will be given to embedded IoT projects with a judging panel of experts scoring the apps based on criteria in three categories (1) innovation; (2) creativity; and (3) functionality.
Submissions for the Spark Hackathon must be received by August 14, 2018 with winning projects announced on August 17, 2018. Two winners will be selected from the submissions and will travel to the BlackBerry Security Summits in either New York or London to demo and present their project live on stage.
This is an exciting opportunity to participate in one of the fastest growing sectors of enterprise technology, and a chance to attend the premier security event of the year with the leading voices at BlackBerry. Best of luck to all our entrants!
For full contest details, official rules and restrictions, visit the BlackBerry Spark Hackathon contest website at BlackBerry.com/SparkHackathon or register for our Spark Hackathon webcast on 7/26.
 To learn more about the BlackBerry Spark Communication Platform or download the SDK for free visit BlackBerry.com/Spark.