How did riding bikes to get away from wild dogs in Guam influence Cylance Founder and CEO Stuart McClure's creative spirit and managerial style?
Cylance Founder and CEO Stuart McClure sat down with Matt Stephenson to dig into his roots and discuss how suffering, cycling and wild dogs helped teach him humility, which in turn, helped to shape his outlook and managerial style in security.
About Stuart McClure
Stuart McClure leads Cylance as its CEO for the first math-based approach to threat detection, protection and response. Prior to Cylance, Stuart was EVP, Global CTO and General Manager at McAfee/Intel. Stuart is the creator and lead-author of the most successful security book of all time, Hacking Exposed.
He is widely recognized for his extensive and in-depth knowledge of security and is one of the industry's leading authorities in information security today.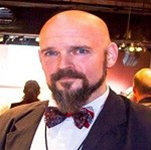 About Matt Stephenson
Insecurity Podcast host Matt Stephenson (@packmatt73) leads the Security Technology team at Cylance, which puts him in front of crowds, cameras, and microphones all over the world. He is the regular host of the InSecurity podcast and host of CylanceTV.
Twenty years of work with the world's largest security, storage, and recovery companies has introduced Stephenson to some of the most fascinating people in the industry. He wants to get those stories told so that others can learn from what has come before.
Don't miss the InSecurity podcast for more chats with the experts!
ThreatVector InSecurity Podcasts: https://threatvector.cylance.com/en_us/category/podcasts.html
iTunes/Apple Podcasts link: https://itunes.apple.com/us/podcast/insecurity/id1260714697?mt=2
GooglePlay Music link: https://play.google.com/music/listen#/ps/Ipudd6ommmgdsboen7rjd2lvste