Webinar: UNDRWRLD Online – August 16th 2018

You're invited to an online event like no other as we continue to unearth the secrets of the cybercriminal underworld.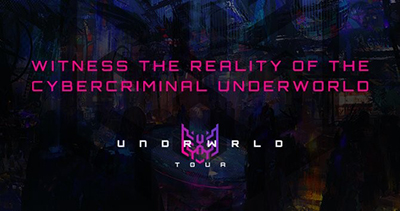 Attend the upcoming UNDRWRLD Online show and get a firsthand look at how cybercrime is conducted today, how to combat the most damaging attack strategies, and how to even prevent threats that have not been seen before.
Take a journey with us as we explore the enemy, revealing tactics and tricks, so you don't become the next cybercrime victim.

Join us in the good fight against an ever-changing threat vector with the best weapons, knowledge, and powerful AI-based technology:
August 16, 2018 at 11:00 AM PDT | 2:00 PM EDT
Get the lowdown on the evolution of malware from its 'primordial worm' form to the current commoditized product that anyone with an Internet connection can acquire. Then learn just who is using these weapons and what kind of risk they pose for you.
We've got live demos of tools that the bad guys are using to separate you from your most valuable IP.
Come join us on Thursday, August 16th, for the UNDRWRLD Online webinar - see you then!