Are you sure you know what a Botnet is? What about the difference between Cloud-Based and Cloud-Enabled Security? Do you know the difference between Machine Learning, Artificial Intelligence and a Difference Engine?
Could you explain the difference between a DoS and DDoS attack to your CFO? Could you make her care that there is a difference? Should Americans care about GDPR? Do they even know what that is?
There's a lot going on in the terms we use in the cybersecurity world. We don't just have to make the solutions that protect our users and prevent attacks from happening, we have to communicate what we are doing in a way that users and their organizations can understand.
In this episode of InSecurity, Matt Stephenson sits down with proud pager-wearing millennial Brian Fanzo to talk about the critical role effective communications plays in cybersecurity and in the larger business world. With a social media following well over 100,000 and over 150 episodes of his two podcasts published, it is fair to say that Brian Fanzo knows a bit about the value of communicating.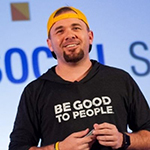 About Brian Fanzo

Brian Fanzo (@iSocialFanz) inspires, motivates and educates businesses on how to leverage emerging technologies and digital marketing to stand out from the noise and reach the millennial and Gen-Z consumers.
He has a diverse background, having worked for the Department of Defense in cybersecurity, and as a technology evangelist at a booming cloud computing startup. Currently, Brian is the founder of iSocialFanz, which helps launch digital and influencer strategies for some of the world's most iconic brands, including Dell EMC, Adobe, IBM, UFC, Applebee's and SAP.

Brian hosts two podcasts (FOMOFanz and SMACtalk), has traveled to over 70 countries, and he has spoken at many large events like SXSW, Social Media Marketing World, CES, and Mobile World Congress.

Brian is a diehard Pittsburgh sports fan and semi-professional poker player who isn't afraid to leverage his fast talking skills, read your body language and spot when you're bluffing.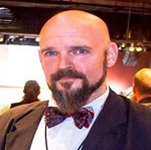 About Matt Stephenson

Insecurity Podcast host Matt Stephenson (@packmatt73) leads the Security Technology team at Cylance, which puts him in front of crowds, cameras, and microphones all over the world. He is the regular host of the InSecurity Podcast and CylanceTV.
Twenty years of work with the world's largest security, storage, and recovery companies has introduced Stephenson to some of the most fascinating people in the industry. He wants to get those stories told so that others can learn from what has come before.