At your wit's end because of APT attacks? Tried everything but the bad guys keep finding creative ways in? Have you considered listening to Nerdcore Hip Hop for inspiration? No? You're missing out. Here's just a taste of the knowledge OHM-I has in store for you:
Yo, you need fortify heavily
I see your database services and version 1 SMB
You know what this nerd gon' do, payloads I'mma turn on you
That quad 4 make you sad forever, that's ETERNALBLUE
In this episode of InSecurity, Matt Stephenson sits down with Nerdcore superstar OHM-I to find out what is happening in the world of Nerdcore Hip Hop and where it intersects with the world of cybersecurity. OHM-I has spent over a decade in both games and has plenty to say about his time in each.
We ask OHM-I if legends like Grandmaster Flash and Rick Rubin' hacked music' in the formative days of Hip Hop, what role can tech companies play in bringing young black men into STEM programs at an early age, and if there such a thing as Nerdcore Country music.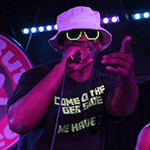 About Leron Gray

Leron Gray is the secret identity of Nerdcore superstar MC and producer and OHM-I. Leron spent 10 years in the Navy including a recent post as a Cryptologic Technician.
With a history of network vulnerability assessments, incident response and network reconstruction, he now enters the private sector as a pen-tester and Red-Teamer.

With multiple LPs, EPs and singles to his credit, OHM-I is a stalwart on the Nerdcore scene. Look for him at events like Magfest, SXSW, Nerdapalooza and other Nerd-friendly venues. Dig into his virtual crates on Bandcamp and Soundcloud to hear more!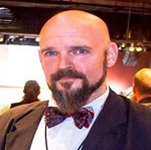 About Matt Stephenson

InSecurity Podcast host Matt Stephenson (@packmatt73) leads the Security Technology team at Cylance, which puts him in front of crowds, cameras, and microphones all over the world. He is the regular host of the InSecurity podcast and host of CylanceTV.
Twenty years of work with the world's largest security, storage, and recovery companies has introduced Stephenson to some of the most fascinating people in the industry. He wants to get those stories told so that others can learn from what has come before.