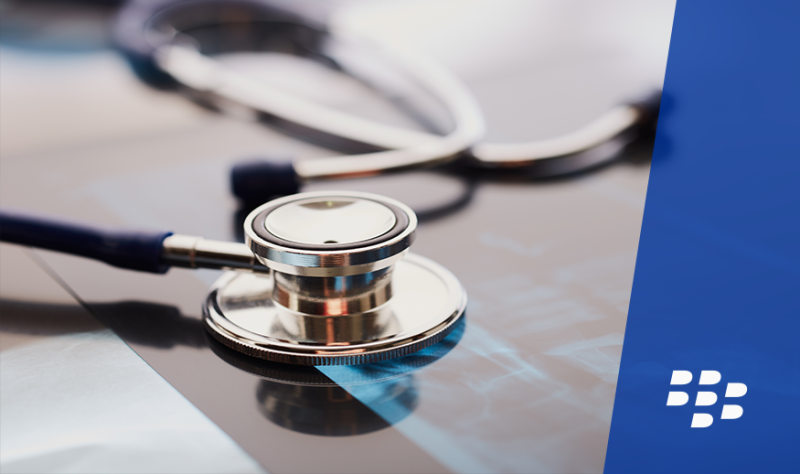 Last month, BlackBerry announced several major healthcare developments, including the introduction of a secure blockchain solution to store and share medical data, an ultra-secure operating system for medical devices, and partnerships with Mackenzie Innovation Institute and Melanoma Institute Australia.
Bolstering this momentum, BlackBerry today announced it is a HIMSS Analytics Certified Consultant, which will enable the company to help address the digital infrastructure needs of healthcare organizations around the world. As a Certified Consultant, BlackBerry's cybersecurity experts have been professionally trained to guide healthcare organizations through the stages of the Infrastructure Adoption Model (INFRAM), HIMSS Analytics' newest Maturity Model, as well as the existing and prevalent Electronic Medical Record Adoption Model (EMRAM).
We sat down with BlackBerry's Global Healthcare Industry Lead Sara Jost and Global Head of Cybersecurity Services Campbell Murray to learn more about their work with HIMSS Analytics and overall work in healthcare.
Q: Why did BlackBerry want to become a HIMSS certified consultant? What do you feel BlackBerry brings to the table?
Sara: As healthcare shifts to be increasingly digital – whether that be in connected hospitals, wearable devices and implants, or more advanced research projects – HIMSS recognized that strong cybersecurity expertise and communication and collaboration tools are required to address the current healthcare landscape. This is what BlackBerry brings.
Campbell: I believe our heritage and deep expertise in building ultra-secure devices, combined with the more than 50 independent credentials, proves that customers won't have to take our word for it when we say that our teams are the elite standard of security services.
Q: BlackBerry has a longstanding reputation for security, but HIMSS INFRAM is also about infrastructure. What is the intersection point that BlackBerry is going after?
Sara: BlackBerry's cybersecurity experts will assess vulnerabilities in a hospital's infrastructure, devices, and configurations, using a wide range of penetration testing, social engineering techniques, and physical security assessments. We will also work with them to identify solutions to fix and/or strengthen their infrastructure.
Q: How will HIMSS INFRAM make a difference to healthcare organizations?
The HIMSS INFRAM framework is an eight-stage model (0 – 7) that allows healthcare IT leaders to map the technology infrastructure capabilities required to reach their facility's clinical and operational goals while meeting industry benchmarks and standards.
By following the INFRAM process, healthcare organizations make the most of their infrastructure by identifying areas, such as technical debt and overspend, to drive efficiency in the transport and security of electronic medical records – ultimately to improve patient outcomes.
Q: Why do hospitals need to care about cybersecurity?
Campbell: Healthcare is an industry under siege. As the IoT/EoT expands, so does the attack surface for hackers who are getting more and more sophisticated. Every connected thing in a hospital – including those of suppliers and distributors – is a potential target that needs specialized protection from today's growing cybersecurity threats.
Security is no longer just about protecting our data. It's about protecting our health, our safety and our well-being, which is why our cybersecurity team is excited to work with more healthcare providers to improve their security posture, procurement standards, and ensure vendor claims can be verified. We'll also work with them to develop a robust plan to deal with any future cyberattacks and get them back up and running as soon as possible.
Q: What can we expect from BlackBerry as it relates to healthcare in the coming year?
Sara and Campbell: More exciting partnerships and news related to our work in healthcare! In today's hyperconnected world, hospitals need ultra-security, which is exactly what we provide.
View the official press release to learn more about BlackBerry's HIMSS Certified INFRAM Consultancy, or read the coverage below for impressions from healthcare industry media outlets.