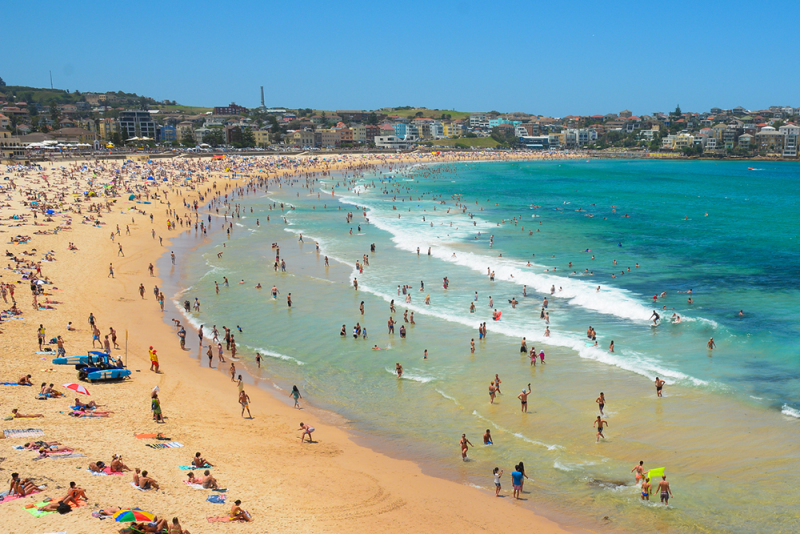 Look at this beautiful image of Australia's iconic Bondi Beach.  What would you say if I asked… what is Australia's biggest killer?  Great White Sharks?  Box Jellyfish?  Any other indistinguishable deadly stinger that Australia seems to be famous for?
No.  This killer is far deadlier – and silent.  The sun.  Which causes melanoma, a malignant cancer that starts from the pigment cells (melanocytes) of the skin. These cells are the cause of freckles and moles on the skin and produce the brown color of a suntan.
According to research from the World Health Organization, Australia and New Zealand have the highest rates of skin cancer in the world. Melanoma accounts for 75% of skin cancer deaths in Australia, and it is predicted 1 in 14 men and 1 in 24 women will be diagnosed with melanoma at some point in their lifetime.
Effective collaboration is critical to advance treatments and interventions – and has never come at a more vital time. The disease is costing healthcare organizations in Australia approximately $201 million every year – but most importantly, melanoma is impacting thousands of lives and millions of families.  It is also a growing global issue. Melanoma rates have increased annually by 3% in the UK, Sweden, and Norway. In the USA, the percentage of people who develop melanoma has more than doubled in the past 30 years.
Using technology to share sensitive, life-saving data  
Such important work requires the most trusted technology.  BlackBerry is therefore honored to be working with Melanoma Institute Australia (MIA), an award-winning, world-leading organization that pioneers the prevention and cure of melanoma through world-class research, treatment, and education programs.
Key to progressing treatment of the disease, is the ability for clinicians to freely collaborate in a regulated environment, knowing that sensitive data is protected.  MIA required a solution that would strengthen the security of its patient records, let researchers around the world securely access and share data in real-time, while complying with Australian, European and Canadian privacy regulations.
After a successful trial, together with BlackBerry's carrier partner, Optus Business, MIA deployed secure content collaboration solution, BlackBerry Workspaces to allow full visibility and control of information, even after it had left the MIA firewall.  This is enabling researchers to securely share critical research data and patient records in a heavily regulated environment, ultimately helping in the advancement of skin cancer research.
"BlackBerry Workspaces strikes that balance between security and ease of use, while also helping to meet data compliance requirements and our own digital transformation goals," explains Ernie White, Chief Information Technology Officer at MIA. "As we continue to expand our research network, Melanoma Institute Australia is accelerating how our researchers can freely collaborate in a very regulated environment while maintaining data integrity."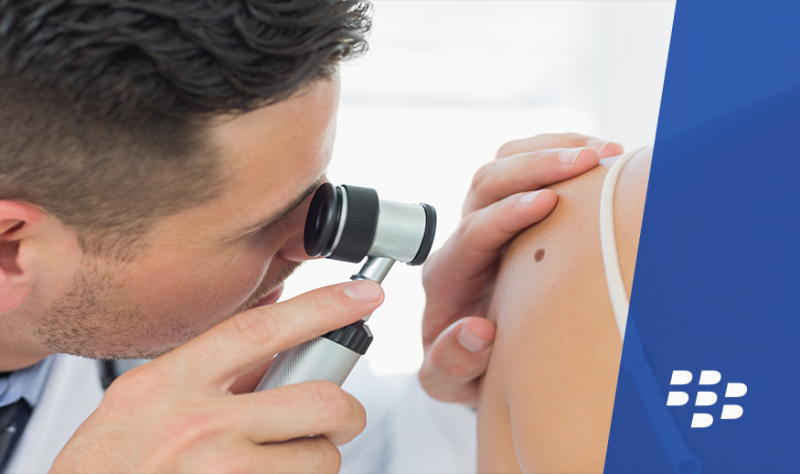 Enabling the clinical journey, without interruption
The aim of MIA is to grow its melanoma research community and increase the ability to share new developments that are progressing rapidly.  Collaboration, integration with existing tools and ease-of-use are the keys to success in this environment. The technology must support, not interrupt, the clinical journey.
BlackBerry Workspaces is now used as the secure file storage and collaboration platform for MIA's various clinicians, researchers, and external stakeholders. Approved contributors in MIA's network, such as scientists and doctors at different hospitals – and fellow researchers in Norway, the Netherlands and Canada, use BlackBerry Workspaces to save and share data from medical histories and clinical trials.
This allows them to more efficiently assess the effectiveness of treatments and interventions. It also enables them to collaborate on timely clinical data, reduce the risk of data leakage, accelerate research efforts, and ultimately enhance outcomes by providing the freedom to collaborate with trusted security.
Its ability to securely track, trace, monitor and manage files and data outside the firewall, will also help MIA to continually widen the network of contributors in Australia and globally.
John Paitaridis, Managing Director of Optus Business says, "Healthcare is regularly in the spotlight as one of the most vulnerable sectors to data breaches here in Australia. Optus wants to help change that by partnering with industry-leading organizations to help our customers to shore up defenses and provide secure and trusted solutions that help them make that leap from legacy systems to digital transformation."
Defending and protecting the global healthcare industry
Balancing the need for data security and privacy with all the benefits of increased interoperability and collaboration is one of the most important challenges in healthcare today.  For more than a decade, BlackBerry has worked closely with health and research organizations around the world to protect data, manage risks, and improve efficiencies to help doctors, clinicians, and researchers treat patients and save lives.
As our world continues to become more hyper-connected, we will continue to help organizations everywhere to get ultra-secure. This means removing security concerns around any connected 'thing' and providing productivity tools to enable clinicians to get on with the most important job of all – saving lives.
We're honored that Melanoma Institute Australia has chosen to partner with us, and excited to see how BlackBerry Workspaces will support this world-class organization to address a fast-growing global health issue.
UPDATE: We are proud to announce our work with the Melanoma Institute Australia has been named a finalist in the Health category of the iTnews Benchmark Awards 2018/19.
To learn more about what BlackBerry Workspaces can do for your own organization click here. If you're interested in some of the other strides we've made in healthcare, check out our blog post on Olympus's deployment of Workspaces, our partnership with MedRegis, or the deployment of BlackBerry UEM in New Zealand.  We'd also suggest taking a look at our recent press release about EoT in healthcare and the landing page for BlackBerry Spark, our ultra-secure platform for the Enterprise of Things.
If you're interested in supporting ongoing melanoma research visit here for more information about 'Melanoma March'.