As businesses grow, their needs for executive leadership become more pronounced - however, they may not be ready to hire a full time CISO. That's why Andrew Hay of LEO Cyber Security suggests you look into the virtues of a virtual CISO.

When the need outweighs the budget, bringing in a virtual CISO can be the right play.

Andrew is responsible for the execution of the company's strategy from both a technical and operations perspective. Working cross-functionally, he ensures the organization is able to actually deliver on its commitments.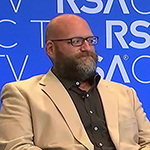 About Andrew Hay
Andrew Hay (@andrewsmhay) is a veteran cybersecurity industry startup Founder, COO, CTO, CISO, industry analyst, security strategist, and international public speaker with more than 20 years of experience related to endpoint, network, and security management technologies.
He prides himself on his ability to execute the security and business vision of the company without neglecting the needs of its customers. Andrew is an author of multiple books on advanced security topics and is frequently approached to provide expert commentary on industry developments. He has been featured in publications such as Forbes, Bloomberg, Wired, USA Today, and CSO Magazine.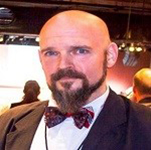 About Matt Stephenson
Insecurity Podcast host Matt Stephenson (@packmatt73) leads the Security Technology team at Cylance, which puts him in front of crowds, cameras, and microphones all over the world. He is the regular host of the InSecurity Podcast and host of CylanceTV.
Twenty years of work with the world's largest security, storage, and recovery companies has introduced Stephenson to some of the most fascinating people in the industry. He wants to get those stories told so that others can learn from what has come before.