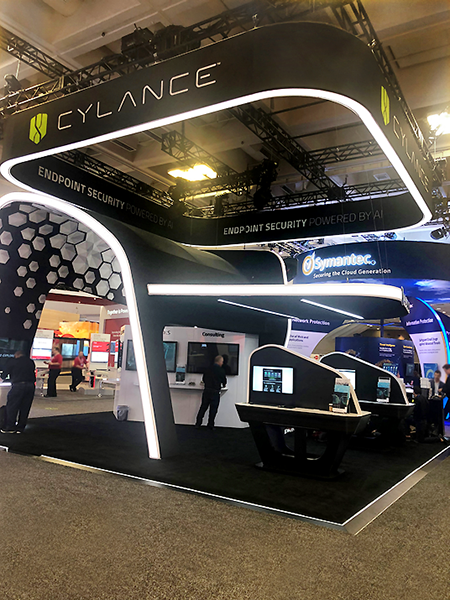 Whether it's at our booth (North Hall Booth #6145), at the Digital Shadows Security Leaders Party, during a meeting with our expert professional services staff, or at one of our featured conference sessions, we look forward to seeing you throughout the week during the RSA Conference, March 4th through the 8th at the Moscone Center in San Francisco – more details here!
You can attend RSA Conference Expo as a guest of Cylance with a FREE Exhibit pass ($125 value). To collect your free Exhibit pass, click here and enter XSU9CYLNCE in the "Registration Code" field.
The Cylance Booth:
Cylance will be at Booth #6145 in the North Hall. Swing by to see demos of Cylance's Artificial Intelligence (AI) Platform which provides advanced endpoint protection and endpoint detection and response capabilities.
Join us to see for yourself how the Cylance AI Platform delivers business value and outcomes you had been told were impossible. You can also snag some of our giveaways while you're there, so come on by.
In-Booth Speaking Sessions:
Cylance has partnered with Verizon to showcase their Verizon Risk Report (VRR) at RSA. With CylancePROTECT® agents on the endpoints, the VRR enables enterprises to quantify their current exposure to cyber-related risks and obtain an understanding of the probability of a potential future breach.
Verizon will demonstrate the VRR in Cylance's booth. In addition, Cylance will present in the Verizon booth, located at Moscone South Hall booth #1521. Cylance Product Marketing Manager, Adam Tomeo, will speak on, "Managing Risk Through Rightsourcing Security." This session will explore the benefits of outsourcing security and endpoint management with Verizon.
Not Attending RSAC 2019?
Can't attend RSA, but want to stay on top of Cylance's announcements at the event? Register to attend our sneak peek webinar where we'll cover the bulk of what we're announcing at the event!
RSAC 2019 Webinar:
Thursday, February 28, 2019
11:00 AM PST / 2:00 PM EST
Register Here
Tune in for this first look at the exciting news and events we have planned for the RSA Conference 2019. Join Cylance Senior Security Technologist Richard Melick for details about what you can expect to see and experience at our booth, a VIP party, and our speaker sessions, including a keynote by Cylance Chairman and CEO Stuart McClure.
Ready to learn more about our plans for RSA Conference 2019? Register now to attend our Sneak Peek Webinar.
It's Party Time!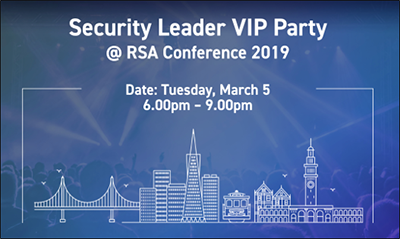 We are also excited to be co-sponsoring the Digital Shadows Security Leaders Party (click link to register – space is limited).
The event will be on Tuesday, March 5th from 6-9pm at the City View @ Metreon, located on the top floor of the Metreon building directly behind Moscone.
This will be the most talked about party of RSAC 2019. Last year, the space filled quickly - don't miss your chance to get on the registration list! We have food, drinks, the hottest security vendors in the space, live music and you won't want to miss the view from City View @ The Metreon. Space is limited, register to hold your spot!
Cylance RSAC 2019 Speaking Sessions:
Monday March 4th:
Tuesday March 5th:
Wednesday March 6th:
We look forward to seeing you there!