Webinar: Why Healthcare Organizations Need AI-Based Cyber Defenses
Healthcare organizations can no longer rely on signature-based cyber defenses to protect their medical devices and clinical support systems.
Join Cylance® Managing Director for Healthcare and Life Sciences Robert Bathurst to learn about today's threat landscape and why only AI-based solutions can stop cyber criminals from breaching critical applications and compromising patients' EHR and EMR data.
Among other topics, Robert will consider:
Why a security posture reliant on patching and software updates leaves healthcare organizations defenseless against zero-day threats
The obfuscation techniques and polymorphic malware adversaries are employing to successfully evade signature-based defenses
How machine learning models assess millions of programmatic features in milliseconds to distinguish benign code from malware
How Cylance's CylancePROTECT® and CylanceOPTICS™ endpoint protection, detection, and response solutions utilize AI to thwart adversary attempts to gain a foothold on your network.
Learn why healthcare organizations need AI-based defenses to protect their medical devices, clinical support systems, and patient EHR and EMR data from being compromised by advanced attacks and zero-day threats.
About the Presenter: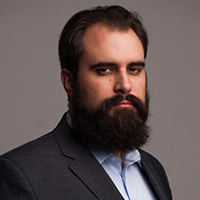 Rob Bathurst is the Managing Director of Healthcare and Life Sciences at Cylance. He has 14 years of security experience and 6 years of healthcare-focused security and engineering knowledge.
Rob helped design and build Mayo Clinic's proactive security services, and also developed one of the first standardized testing methodologies for medical devices.

Earn One CPE Credit When You Attend
This webinar is eligible for your continuing professional education credit. Attendees in the International Information System Security Certification Consortium (ISC)2 Program will earn one credit for attending this webinar.