Join BlackBerry Cylance for a unique opportunity to learn more about our 2019 Threat Report from our researchers and analysts.
The BlackBerry Cylance 2019 Threat Report Highlights webinar is an opportunity to examine our conclusions with the researchers and analysts who authored the report. Join us for an in-depth look at the cybersecurity trends, topics, and innovations that dominated the past year.
Our panel of experts will offer additional insight into the discoveries drawn from our internal data, customer communications, threat research, and intelligence efforts.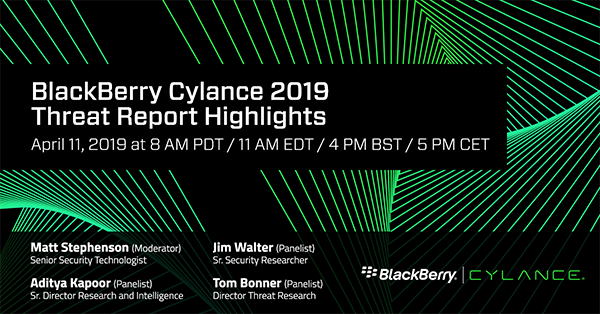 April 11, 2019, 8:00 AM PDT / 11:00 AM EDT /
4:00 PM BDT / 5:00 PM CET
Webinar length: 1 hour

REGISTER HERE
This webinar will feature answers to important questions raised by our report and demonstrates the methodical processes we used to uncover information. Webinar attendees will gain a better understanding of the current state of cybersecurity, and an idea of the challenges that lay ahead. This webinar is exclusively for BlackBerry Cylance customers.
Earn One CPE Credit When You Attend
This webinar is eligible for your continuing professional education credit. Attendees in the International Information System Security Certification Consortium (ISC)2 Program will earn one credit for attending this webinar.