How well is your organization prepared to respond to a major security incident? Organizations that contain a serious breach within 30 days can save more than $1M in total remediation and recovery costs.
Yet, more than three-quarters of the IT and security professionals responding to an April 2019 Ponemon Institute study reported their organizations lack a consistent incident response (IR) plan.
The problem? Outmoded IR tools and a global skills shortage that makes it challenging to find and field an experienced IR team.
Thursday, May 9, 2019
9:00 AM PDT / 12:00 PM EDT / 5:00 PM BST
Find out how BlackBerry Cylance IR consultants can minimize your organization's time-to-respond and post-incident risk exposure on May 9th, when BlackBerry Cylance Sr. Director Enterprise Solutions & Analyst Relations Tom Pace shares findings from a new Forrester Wave report.
Tom's agenda will include:
How Forrester Research rates BlackBerry Cylance as a provider of IR solutions and professional services
Why next-gen IR solutions must incorporate sophisticated AI and automated response capabilities to be effective
IR best practice approaches and methodologies
How BlackBerry Cylance IR consultants leverage our native AI platform to rapidly contain, remediate, and prevent incidents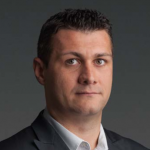 Speaker Bio: Thomas Pace, Sr. Director, Worldwide Consulting. As a Sr. Director of Consulting Services for Blackberry Cylance, Thomas ensures best-in class services delivery as well as technical expertise throughout the entire service offering lifecycle. Thomas leverages his experience from the federal government, large financial institutions, and the military to provide strategic solutions to secure organizations. Over the course of Thomas's career, he has created a multitude of programs and strategies to ensure the effectiveness and success of cybersecurity teams and organizations.
Earn One CPE Credit When You Attend
This webinar is eligible for your continuing professional education credit. Attendees in the International Information System Security Certification Consortium (ISC)2 Program will earn one credit for attending this webinar.