Join the team from BlackBerry Cylance at the 22nd Annual Black Hat USA 2019 Conference in Las Vegas on August 3rd-8th at the Mandalay Bay Business Hall.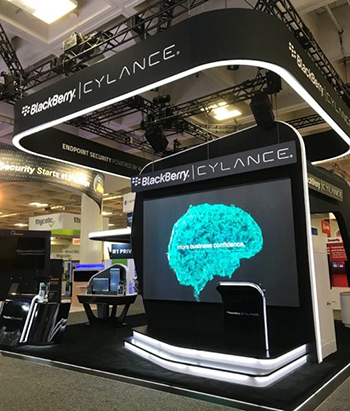 Black Hat USA is a yearly gathering of security experts, practitioners and vendors presenting the latest in security research, tactics, and solutions to combat the ever-present risks to both organizations and individuals.
Come see us at booth #514 to discover how BlackBerry Cylance harnesses the power of artificial intelligence (AI) to deliver trusted security throughout the enterprise.
Our unique AI approach – predicting and protecting against known and unknown malware, fileless attacks and zero-day payload execution – has been deployed for more than 4000 forward-thinking customers securing over 14.5 million endpoints.
BlackBerry Cylance Presentations:
CyBot: Open-Source Threat Intelligence Chat Bot (Platform Enhanced)
Thursday, August 8 | 2:30 PM - 3:50 PM
Black Hat Business Hall (Oceanside), Arsenal Station 4
Tony Lee, Senior Director of Consulting at BlackBerry Cylance, will address CyBot, the open source-based threat intelligence chat bot, detailing how feedback from previous Black Hat events helped shape its development.
If you know even a little bit of Python, you can help our global collaboration efforts by writing plugins and sharing them with the community. If you want to build your own CyBot, the instructions in this project will let you do so with about an hour of invested time and anywhere from $0-$35 in expenses. Come make your own threat intelligence chat bot today!
Black Hat Arsenal: Sharing is Winning!
Tuesday, August 6 | 5:20 PM - 5:40 PM
At Black Hat Arsenal, researchers, developers, and practitioners showcase their latest open-source tools in an open, conversational environment. In this talk, we will detail how we select the best free and open-source security tools. You'll also learn how attendee engagement with tool developers can impact future features and functionality and why you should not miss out on these tool presentations. Finally, you'll also get a sneak peek at this year's lineup and discover what's new at this year's Arsenal. Speakers: Rachid Harrando, Office of the CISO, ServiceNow and Tony Lee, Senior Technical Director, BlackBerry Cylance.
How Artificial Intelligence Is Enabling Cyber Resilience
Wednesday, August 7 | 3:00 PM - 3:50 PM
Business Hall Theater "A"
Josh Fu, Sales Engineer at BlackBerry Cylance, will provide insights on the current state of AI and machine learning and offer projections of future use cases in authentication, identification, and the malicious abuse of technologies.
Join Us After Hours for a Networking Reception
Join BlackBerry Cylance executives on Wednesday, August 7th as we host a networking reception. It's an ideal opportunity to reconnect with your peers away from the trade show floor, enjoying craft cocktails and appetizers. Spots are limited, so reserve your space today. REGISTER HERE and a BlackBerry Cylance staff member will send you a confirmation email with complete event details.
Join Us at Fleur by Hubert Keller and Be Our Dinner Guest
Kick off Black Hat 2019 in proper fashion! Join BlackBerry Cylance executives for a private dinner at Fleur by Hubert Keller on Tuesday, August 6th as we welcome our VIP guests and customers. A special guest speaker will complement the evening at this unique event covering examining security industry insights in a relaxed social setting while sampling globally inspired dishes. Please REGISTER HERE to be considered for this exclusive dinner opportunity!
See you at the show!