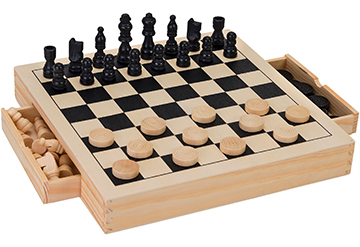 "This $#!%'s chess, it ain't checkers!"
~ Detective Alonzo Harris, 2001, Training Day
Want to have some fun with numbers? As of May 2019, the total worldwide population identifying as human is 7.7 billion.
Among those people, 4.4 billion of them use the Internet. Not quite everyone is sharing their lives, but there are 3.499 billion active social media users.

Are they all real people? That's a valid question. There are an estimated 270 million fake Facebook profiles, and in 2018, Twitter deleted 70 million accounts they determined were fake. So there's that.
Clint Watts studies terrorism, social media, external forces meddling with elections, and a lot of other Orwellian things. Since publishing Messing with the Enemy: Surviving in a Social Media World of Hackers, Terrorists, Russians, and Fake News last summer, he has looked deeper into other types of election hacking including Deepfakes.
You may have seen his June testimony in front of the U.S. House of Representatives Permanent Select Committee on Intelligence on C-Span, if you're a C-Span type of person.
In this week's episode of the InSecurity Podcast, Matt Stephenson welcomes Clint Watts back to dig into Advanced Persistent Manipulators (APMs). Like their cousin Advanced Persistent Threats, APMs are hard to quantify, harder to understand, and ever more difficult to stop. With governments all over the world in a state of perpetual election-manipulation-mode, and candidates running their own Troll farms, do we even know what to prepare for? Tune in and find out…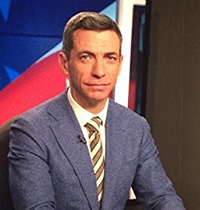 About Clint Watts
Clint Watts (@selectedwisdom) is a Distinguished Research Fellow at the Foreign Policy Research Institute, and a Non-Resident Fellow at the Alliance for Securing Democracy.
His best-selling book Messing with the Enemy: Surviving in a Social Media World of Hackers, Terrorists, Russians, and Fake News shone a light on what has, is, and could happen with regard to social media manipulation and the ways foreign interests can hack the electoral process. It was recently released in paperback.
Clint is a national security contributor for NBC News and MSNBC. His research and writing focuses on terrorism, counterterrorism, social media influence and Russian disinformation.
Clint's tracking of terrorist foreign fighters allowed him to predict the rise of the Islamic State over al Qaeda in 2014. From 2014–2016, he worked with Andrew Weisburd and J.M. Berger to track and model the rise of Russian influence operations via social media leading up to the U.S. Presidential election of 2016. This research led Clint to testify before four different Senate committees in 2017 and 2018 regarding Russia's information warfare campaign against the U.S. and the West.
Before becoming a consultant, Clint served as a U.S. Army infantry officer, a FBI Special Agent, as the Executive Officer of the Combating Terrorism Center at West Point, as a consultant to the FBI's Counter Terrorism Division and National Security Branch, and also as an analyst supporting the U.S. Intelligence Community and U.S. Special Operations Command.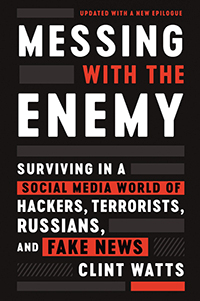 Messing with the Enemy: Surviving in a Social Media World of Hackers, Terrorists, Russians, and Fake News
Clint Watts, a former FBI Special Agent and leading cybersecurity expert, offers a devastating and essential look at the misinformation campaigns, fake news, and electronic espionage operations that have become the cutting edge of modern warfare—and how we can protect ourselves and our country against them.
Watts electrified the nation when he testified in front of the House Intelligence Committee regarding Russian interference in the 2016 election. In Messing with the Enemy, the cyber and homeland security expert introduces us to an alarming world in which terrorists and cyber criminals don't hack your computer, they hack your mind.
Watts reveals how these malefactors use your information and that of your friends and family to work for them through social media, which they use to map your social networks, scour your world affiliations, and master your fears and preferences.
Thanks to the schemes engineered by social media manipulators using you and your information, business executives have coughed up millions in fraudulent wire transfers, seemingly good kids have joined the Islamic State, and staunch anti-communist Reagan Republicans have cheered the Russian government's hacking of a Democratic presidential candidate's emails. Watts knows how they do it because he's mirrored their methods to understand their intentions, combat their actions, and co-opt their efforts.
Watts examines a particular social media platform—from Twitter to Internet Forums to Facebook to LinkedIn—and a specific bad actor—from al Qaeda to the Islamic State to the Russian and Syrian governments—to illuminate exactly how social media tracking is used for nefarious purposes. He explains how he's learned, through his successes and his failures, to engage with hackers, terrorists, and even the Russians—and how these interactions have generated methods of fighting back.
Shocking, funny, and eye-opening, Messing with the Enemy is a deeply urgent guide for living safe and smart in a super-connected world.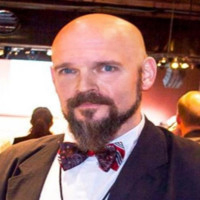 About Matt Stephenson
Insecurity Podcast host Matt Stephenson (@packmatt73) leads the Security Technology team at Cylance, which puts him in front of crowds, cameras, and microphones all over the world. He is the regular host of the InSecurity Podcast and host of CylanceTV.
Twenty years of work with the world's largest security, storage, and recovery companies has introduced Matt to some of the most fascinating people in the industry. He wants to get those stories told so that others can learn from what has come before.