Webinar: Better Security. Fewer Resources
Cyberattacks are increasing. Whether you're a big, small, or medium-sized business, you're a target. Put the pressure on the attacker, not on your security team.
Is your business experiencing these cybersecurity challenges?
Resource constrained
Lack of cybersecurity expertise
Limited discretionary budget
Unable to manage complex security measures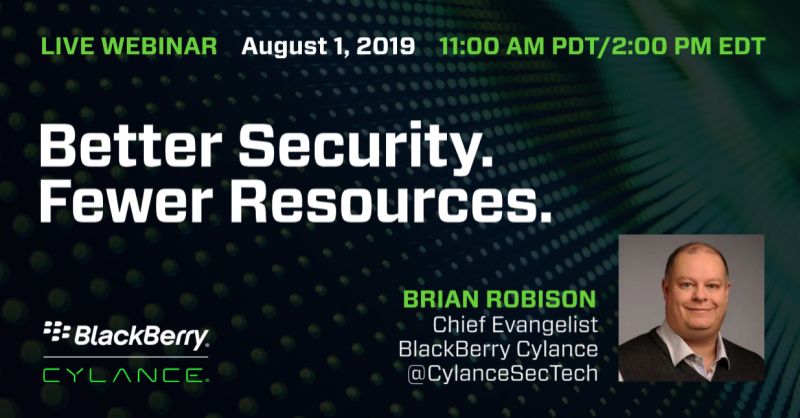 BlackBerry Cylance technology predicts and prevents threats before they can execute without straining your limited resources, your business will have:

- Real-time predictive threat prevention combined with prevention-based detection and incident response.
- Scalable cyber security protection to support your business needs
Join BlackBerry Cylance Chief Evangelist Brian Robison to see how BlackBerry Cylance solutions simplify endpoint security, giving you the confidence and peace of mind to focus on running your business.
About the Speaker: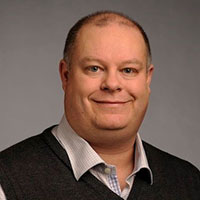 Brian Robison (@CylanceSecTech) has over 20 years of cybersecurity experience. As Chief Evangelist at BlackBerry Cylance, he is focused on educating and inspiring the world. Robison hosts live Hacking Exposed events, where he demonstrates the tools and techniques of real-world threat actors. Robison is a regular speaker at industry events such as RSA, Black Hat, thought leadership forums like ISC2 Think Tank and is highly sought after to speak at partner events.
Prior to joining BlackBerry Cylance, Robison worked to defend organizations from mobile security threats —three years as a Director at Citrix XenMobile and two driving enterprise strategy at Good Technology. Robison also spent over six years at McAfee with a special focus on end-point security - leading efforts to modernize ePolicy Orchestrator. During this time, he also managed vulnerability and policy compliance solutions.
His early career ranges from a six-year period with Tripwire, Inc. to cutting his professional teeth in consumer electronics at Diamond Multimedia.