Senior Vice President and Chief Security Architect Ryan Permeh recently presented on the core aspects of BlackBerry's Zero Trust Architecture at the BlackBerry World Tour New York event that took place at the New York Stock Exchange (NYSE):
The security status quo has proven to be inadequate and a new security paradigm is required. Permeh explains why organizations need to adopt zero trust strategies to reduce risk with end-to-end security architectures and implement AI and machine learning technologies to enable security-at-scale by automating security policies, processes, and responses in order to reduce security stack complexity and increase both efficacy and ROI.
BlackBerry provides intelligent solutions designed for how both businesses and people work enable workflows through secure productivity tools that eliminate Shadow IT, security workarounds, and the need for employees to be security experts just so they can do their jobs.
Learn more here about BlackBerry Intelligent Security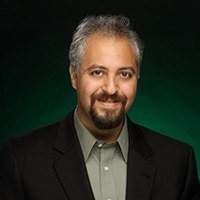 About Ryan Permeh
Ryan works within the office of the CTO to define technology strategy and architecture, that will help integrate technology across BlackBerry and focus it towards reducing customer risk.
Ryan has been in the security industry for over 20 years and has a long history in both offensive and defensive security. Ryan came to BlackBerry as part of the Cylance acquisition. He was co-founder and Chief Scientist of Cylance and led the architecture behind Cylance's mathematical engine and groundbreaking approach to security. Prior to co-founding Cylance, he previously served as Chief Scientist for McAfee focused on technology strategy, and as a Distinguished Engineer at eEye Digital Security focused on building security assessment tools.
He has published numerous articles, papers, and books, and is a frequent speaker at conferences around the world on the topics of security, privacy, machine learning, and entrepreneurship. His research has led to numerous innovations in both offensive and defensive security technology and has published over 20 patents in the security and data science fields. He is known as the discoverer and primary analyst of the "Code Red" computer worm and contributed to many other analyses of significant threats over his career.