The 21st century marks the rise of artificial intelligence (AI) capabilities for mass consumption. A staggering surge of AI has been applied to a myriad of uses — from driving cars to curing cancer.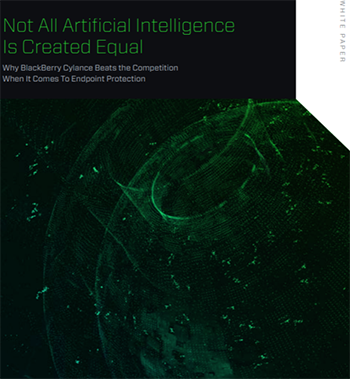 AI has only recently entered the world of cybersecurity, but it's occurring just in time. According to Gartner Research, the total market for all security will surpass $100B in 2019.
Companies are looking to spend on innovation to secure against cyber threats.
As a result, more tech startups today tout AI to secure funding, and more established vendors now claim to embed AI in their product lines.
Yet the hype around AI — what it is and how it works — has created confusion in the marketplace.
Whether you're a CxO, an IT administrator, or SecOps operator, how do you make sense of the claims? Can you test for yourself to know the truth?
BlackBerry Cylance is a pioneer in applying AI to cybersecurity. The company spearheaded an innovation revolution by replacing legacy antivirus software with preventative solutions and services that protect the endpoint — and the organization. It stops zero-day threats and the most sophisticated attacks, both known and unknown.
So, what makes BlackBerry Cylance AI stand out from the rest? BlackBerry Cylance works because it:
Achieves efficacy rates at or higher than 99.1%1 (compared to 50-60% with legacy AV).
Requires minimal system resources, has low CPU usage, and a small memory footprint -Prevents attacks with exceptional speed — in milliseconds.
Requires no cloud connection to prevent threats. Unlike human analysis or competitive offerings, BlackBerry Cylance AI operates with unparalleled precision, preventing 99.1%1 of existing and never-before-seen malware.
DOWNLOAD THE FULL WHITEPAPER HERE
RSA Conference 2020
Also, please join us at booth N-5655 during the upcoming RSA Conference, February 24th - 28th at the Moscone Center in San Francisco, to learn more about BlackBerry Cylance and our innovation and leadership in security software and services for enterprises, SMBs, and governments around the world.
You can roam the RSA Conference Expo floor as a guest of BlackBerry Cylance with a FREE Expo pass ($125 value). To collect your free pass, click here and enter XS0UBLACK in the "Registration Code" field.
Want a sneak peek at all BlackBerry Cylance has to offer at the show, or can't attend RSA this year? Register to attend our event preview webinar:
RSAC 2020 Webinar:
February 18, 2020 at 10:00 AM PST / 1:00 PM EST
REGISTER HERE
Tune in for this first look at the exciting news and events we have planned for the RSA Conference 2019. Join BlackBerry Cylance Senior Product Marketing Manager Robert Slocum for details about what you can expect to see and experience at our booth, our networking event, and our featured speaking sessions.