Ryan Permeh has been developing security solutions to protect endpoints for the bulk of his career. With BlackBerry's acquisition of Cylance, he now gets to turn his focus to the kind of endpoint that can go up to 200 mph.
With the rise of autonomous vehicles, there is an entirely new kind of inspiration for safety and security. The artificial intelligence (AI) models that he created are hitting the open road!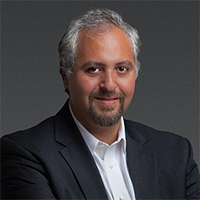 About Ryan Permeh
Ryan Permeh is the Chief Security Architect and Senior Vice President at BlackBerry. He works within the office of the CTO to define technology strategy and architecture that will integrate technology across BlackBerry and focus it towards reducing customer risk.
Ryan has been in the security industry for over 20 years and has a long history in both offensive and defensive security. Ryan came to BlackBerry as part of the Cylance acquisition. He was Co-Founder and Chief Scientist of Cylance and led the architecture behind Cylance's mathematical engine and groundbreaking approach to security. Prior to co-founding Cylance, he served as Chief Scientist for McAfee focused on technology strategy, and as a Distinguished Engineer at eEye Digital Security focused on building security assessment tools.
Ryan has published numerous articles, papers, and books, and is a frequent speaker at conferences around the world on the topics of security, privacy, machine learning, and entrepreneurship. His research has led to numerous innovations in both offensive and defensive security technology and has published over 20 patents in the security and data science fields. He is known as the discoverer and primary analyst of the "Code Red" computer worm and contributed to many other analyses of significant threats over his career.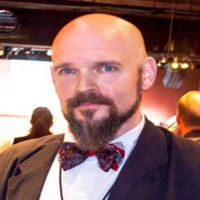 About Matt Stephenson
Insecurity host Matt Stephenson (@packmatt73) leads the Security Technology team at BlackBerry, which puts him in front of crowds, cameras, and microphones all over the world. Twenty years of work with the world's largest security, storage and recovery companies has introduced Stephenson to some of the most fascinating people in the industry. He wants to get those stories told so that others can learn from what has come before.
Every week on the InSecurity Podcast, Matt interviews leading authorities in the security industry to gain an expert perspective on topics including risk management, security control friction, compliance issues, and building a culture of security. Each episode provides relevant insights for security practitioners and business leaders working to improve their organization's security posture and bottom line.
Can't get enough of the InSecurity Podcast? You can find us at ThreatVector InSecurity Podcasts, iTunes/Apple Podcasts and GooglePlay as well as Spotify, Stitcher, SoundCloud, I Heart Radio and wherever you get your podcasts!