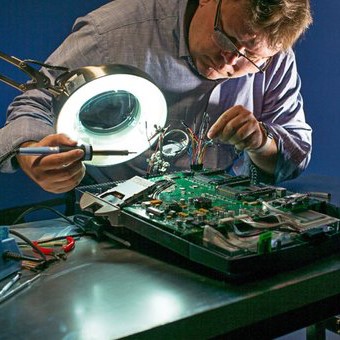 "Voting is about our capability to change the way the government works by changing the people who make the decisions. Voting is our capability to have a peaceful transfer of power. If you don't have that, the alternatives are revolutions." ~ Harri Hursti, Kill Chain: The Cyber War on America's Elections
"If you don't want to know how easy it is for a canny individual—or a malicious state actor—to hack into the electronic voting technology used in the U.S., don't watch Kill Chain: The Cyber War on America's Elections.'" ~ Stephanie Zacharek ; Time, 25th March 2020
The HBO Documentary Kill Chain: The Cyber War on America's Elections provides an in-depth look at just how easy it can be to hack the voting process of one of the world's most important elections. Because this subject is that important, HBO has now made Kill Chain available for free on YouTube.
This week on the InSecurity Podcast, Matt Stephenson has a chat with security legend Harri Hursti and Nordic Innovation Labs co-founder Dan Webber about the state of security for U.S. voting technology. Add in a health crisis that prevents voters from actually going to the polls, and what do you get? Tune in and find out…
About Harri Hursti
Harri Hursti (@harrihursti) is a Founding Partner at Nordic Innovation Labs. You may know him better as a world-renowned data security expert, Internet visionary and serial entrepreneur. He began his career as the prodigy behind the first commercial, public email and online forum system in Scandinavia.
Hursti founded his first company at the age of 13 and went on to co-found EUnet-Finland in his mid-20s. Today, he continues to innovate and find solutions to our most vexing problems. He is among the world's leading authorities in the areas of election voting security, critical infrastructure and network system security.
Hursti is also considered one of the world's foremost experts on the topic of electronic voting security, having served in all aspects of the industry sector. He is considered an authority on uncovering critical problems in electronic voting systems worldwide. In the last 10 years, Harri has pursued this important subject out of a sense of duty.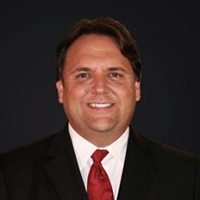 About Dan Webber
Dan Webber (@SocialDanWebber) is Managing Partner and Chief Innovation Officer at Nordic Innovation Labs. He has served as Chief Information Officer, Security Officer, and Technology Officer for 22 years - 13 of those years in healthcare and biotech, and the other 9 in manufacturing, technology and hospitality companies.

Webber advises companies that provide artificial intelligence, machine learning, cybersecurity, innovation, design, analytics, advanced computing and digital services to large private and public enterprises around the world.

Over the course of his career, he designed, implemented, and envisioned the network and system process workflow for the first FDA Approved DNA-based sequencing system as Chief Information Officer of Bayer Visible Genetics. His pharmacogenomic systems supported drug discovery and research activities in the areas of HIV, HCV, HBV, and multiple areas of cancer.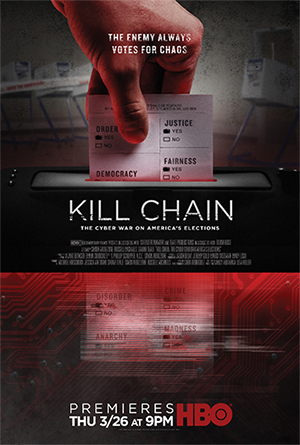 About Kill Chain: The Cyber War on America's Elections
In advance of the 2020 Presidential Election, Kill Chain: The Cyber War on America's Elections takes a deep dive into the weaknesses of today's election technology, an issue that is little understood by the public or even lawmakers.
From Directors Simon Ardizzone, Russell Michaels and Sarah Teale, the team behind HBO's 2006 Emmy-nominated documentary Hacking Democracy, the documentary Kill Chain follows Finnish hacker and cybersecurity expert Harri Hursti as he travels across the U.S. and around the world, to show how our election systems remain unprotected, with very little accountability or transparency.
Hursti's eye-opening journey is supplemented by candid interviews with key figures in the election security community, as well as cyber experts and U.S. legislators from both parties who are fighting to secure the integrity of the vote before November 2020.
As the film shows, individuals, foreign states and other bad actors can employ a myriad of techniques to gain access to voting systems at any stage – from voter registration databases to actual election results.
Through this lens, seemingly unrelated or uncoordinated security breaches of the recent past can be seen as part of a "kill chain" – a military doctrine to plot meticulous, long-game attacks, understanding that breaking down trust in voting results is the surest way to undermine democracy. As enlightening as it is disturbing, Kill Chain underscores the fragility of our election process and points to the clear solutions available to protect us against sabotage.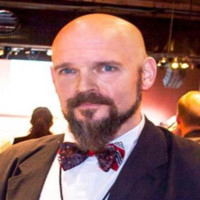 About Matt Stephenson

InSecurity host Matt Stephenson (@packmatt73) leads the broadcast media team at Cylance, which puts him in front of crowds, cameras, and microphones all over the world. He is the regular host of the InSecurity Podcast and video series at events around the globe.

Twenty years of work with the world's largest security, storage, and recovery companies has introduced Stephenson to some of the most fascinating people in the industry. He wants to get those stories told so that others can learn from what has come before.