BlackBerry® has leveraged a longstanding partnership with Samsung® Electronics Co., Ltd. to deliver a secure end-to-end mobility platform trusted by enterprises around the world, including 9 of the 10 global banks and all G7 governments. This partnership with Samsung Electronics Co., Ltd. is highlighted by BlackBerry's recognition as an inaugural Platinum Partner, the highest tier in the new Samsung Knox™ Partner Program, and the recent certification of BlackBerry® Spark UEM as a Knox Validated solution.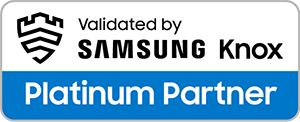 The Knox Validated Program is designed to certify the level of integration of critical Knox security and management capabilities, helping customers to deploy with confidence.
BlackBerry is extremely proud of these endorsements from Samsung Electronics Co., Ltd. which showcase the depth of our partnership.
BlackBerry Spark® Suites are based on a Zero Trust architecture and designed to secure people, devices, networks and applications. Samsung's Knox Platform for Enterprise (KPE) is a military-grade mobile solution for IT admins to manage and secure Samsung's Android™ phones and tablets for business. BlackBerry Spark Suites, together with Samsung KPE, provide advanced endpoint management and unified security capabilities surpassing the requirements of security-conscious organizations while also delivering features to enhance user productivity.
With BlackBerry Spark and KPE, mobile users can take advantage of a comprehensive portfolio of Samsung devices* suited for any role and BlackBerry applications optimized for Knox, while CIOs are assured their environment is scalable, reliable and protected from all types of threats. BlackBerry's unique portfolio of Samsung Knox compatible solutions include:
"For many years, BlackBerry has worked with Samsung to provide our customers with a comprehensive security offering - the BlackBerry Spark UEM Suite with full support for Knox solutions," said KC Choi, Head of Global Mobile B2B Team at Samsung Electronics Co., Ltd. "As a Knox Platinum Partner, as well as achieving Knox Validated UEM solution status, we believe BlackBerry can help our customers support the next generation of mobile workers with industry leading productivity and security tools."
Getting started with BlackBerry Spark and Samsung Electronics Co., Ltd. has never been easier with Knox Platform for Enterprise licences included at no additional cost in the BlackBerry Spark UEM Suite, BlackBerry Spark® Suite and the new FedRAMP certified BlackBerry® Mobility Government Suite.
For more information, please visit blackberry.com/us/en/solutions/samsung-knox
Customer References: