For many organizations, the ongoing COVID-19 crisis has stretched the limits of preparedness efforts and challenged many previously held planning assumptions regarding business and supply chain disruptions.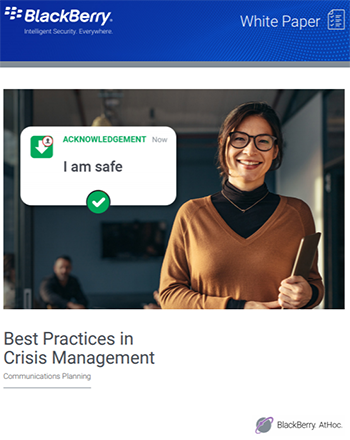 It also introduced challenges around equipping staff and critical vendors with personal protective equipment (PPE) and adhering to workplace safety and health guidelines.
Planning parameters that were based on anticipated resurgence waves, a limited and contained timeframe, and cross-border transmissions all strayed off course as the situation evolved.
It is a crisis affecting every country, organization, as well as individuals, that escalated exponentially within a short period of time.
Despite navigating the challenging circumstances and variables, whether it's in a global pandemic or other critical incident where a crisis management is required, organizations and communities can have better control during the initial phase of an event and thus minimize preventable confusion amongst stakeholders with good planning.
An essential component in any crisis management plan is a well-thought-out communications process that addresses stakeholder concerns, the mobilization of scarce resources, and demonstrates management command and leadership during the course of the crisis.
Effective Planning Essentials
Your communication strategy and processes will play a critical role in keeping your employees safe while diminishing the impact of additional disruption. The Best Practices in Crisis Management: Communications Planning white paper offers guidance and recommendations for further crisis management plan development while recognizing the challenges inherent in effective communications and execution, as well as considerations in regard to available options for enhancing overall crisis communications.
In addition, the Return to Work Resource Kit provides your organization with a set of tools and best practices in crisis management and communication planning to support your journey back to the office as part of this next stage in the crisis.
Download these and other valuable resources to help your organization respond to the changing dynamics of any situation and avoid further business disruption and risk to people, assets, facilities and your supply chain.