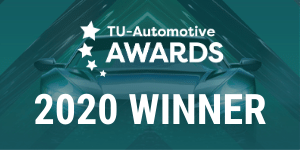 We are thrilled to announce that BlackBerry has been named by TU-Automotive as this year's 'Software Supplier of the Year'.
The electronic architecture of the vehicle is evolving from being hardware-driven to software-defined, and this recognition by TU-Automotive further validates our leadership position within the industry as the premier foundational software provider for the current and the next generation of connected, automated and autonomous vehicles.
The TU-Automotive Awards are amongst the most prestigious and anticipated awards in the connected car industry and the number of competitors entering submissions has never been higher. The 2020 TU-Automotive Award winners were honored as part of a special virtual ceremony during the Informa Tech Automotive Group's Festival of Automotive held August 20. Informa Tech Automotive Group analysts and editors turned all of the entries received into a list of finalists and the category winners were ultimately picked by an independent panel of judges.

BlackBerry QNX is a leading supplier of safe, secure, and trusted operating systems, middleware, development tools, and engineering services for mission-critical embedded systems. Automakers and Tier 1's use BlackBerry QNX software in their advanced driver assistance systems, digital instrument clusters, digital cockpits, connectivity modules, secure gateways, handsfree systems, infotainment systems and other automotive subsystems.
We also have a broad portfolio of safety-certified software including our QNX operating system, hypervisor, development tools and middleware that meet safety standards for a wide range of industries including automotive, medical devices, industrial control, rail, and robotics. We have a diverse client list and are the embedded OS of choice for safe and secure critical systems across many industries.
QNX technology is embedded in more than 175 million vehicles on the road and is used by nine of the top ten automotive Tier 1's and by 45+ OEMs, including BMW, Ford, GM, Honda, Hyundai, Jaguar Land Rover, KIA, Maserati, Mercedes-Benz, Porsche, Toyota and Volkswagen.
We wish to thank TU-Automotive, Informa Tech Automotive Group, and the entire judging committee for acknowledging BlackBerry QNX and the critical role our company serves as a software supplier.
To learn more about BlackBerry QNX software and solutions, as well as our work in the automotive industry, click here for more information.